There may be nothing better than taking the most virtuous ingredient, like kale, and making it as delicious as deep-fried potato slices. I love kale chips.
If we're being honest about our allegiances, I'll tell you that I might like my taters au gratin even more than as chips. You get that crunchy, browned exterior, but you also get that soft, melty, creamy underbelly. And if you want to sprinkle some extra grated parmesan on top, well, don't let me stop you.
My kale repertoire boils down to three main things: chips, sauteed kale, and raw kale salad. So the greens are either very very crunchy, or totally soft. What never occurred to me — until last week, that is — was the idea of treating kale like potatoes au gratin, giving them soft parts and crunchy parts in the same dish. That's what I was going for with this crispy kale tart.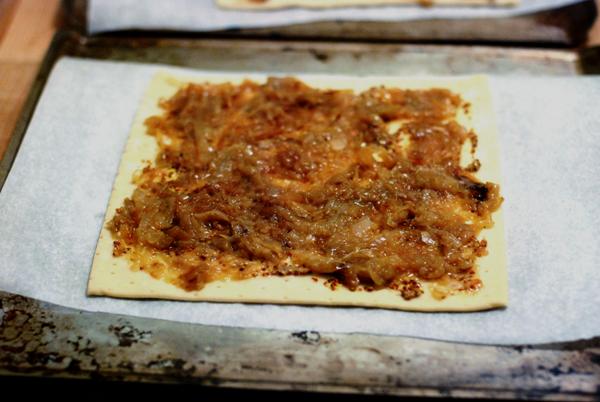 It all started when I overbought kale at the market a few weeks ago, I washed and cut it up all at once, figuring I'd be more likely to use it if it were all ready to go. (This is a strategy I employ whenever I buy lettuce, green beans, cauliflower, broccoli, or any greens. Prepping them in advance makes cooking from scratch seem so much less work-intensive.) Because I know myself too well, I also halved some grapes while I was at it. Those went in the bag with the kale. So did some chopped scallions. Boom: salad.
After 4 straight days of kale-grape salad for lunch, I still had some leftover and I wanted to do something different with it. We had planned to bring dinner to friends who just had a baby, and I was thinking I'd make some sort of open-faced puff pastry tart. Opened the fridge, saw the kale, wheels started churning.
30 minutes later, something beautiful emerged from the oven: the kale, which had been drizzled with olive oil and liberally salted, tasted like kale chips on top – but there were soft bits, too, reinforced by plenty of caramelized onions and bits of melty goat cheese. And those grapes! Why don't we cook grapes more often? The heat concentrates them; they come out looking like sparkly little gems. The tart didn't need scallions, but those grapes? The goat cheese? Amazing.
Now's the part where I admit to you that apparently, I can't come up with much else to eat. I've made this tart three times. I've eaten it 4 days this week. I probably won't stop there.
But if I do, at any point, decide to incorporate some other foods into my diet, this tart definitely will go into the regular rotation.
Crispy Kale Tart and Grape Tart
Makes 1 9-inch tart, enough to serve 4 as an appetizer or, with a salad, a light dinner

A few notes about this tart. First: I've made it with fresh goat cheese, which I really like. If you don't love goat cheese, try it with grated parmesan, which works equally well. Don't use aged goat cheese, though — that combination was sort of weird. Second: use the most flavorful grapes you can find. If concord grapes are in season, use those. Otherwise, try to find unsprayed red or black grapes. Lastly: any kind of kale works here. I like curly kale best, because the leaves are very unruly, so you end up with lots of crispy bits. That said, I've tried the tart with dinosaur (lacinato) kale and even with a mix of swiss chard and collard greens (which get less crispy, but still taste good). In short, any greens will do.

1 lb. (16 ounces, 454 grams) yellow onions (about 2 medium), halved and thinly sliced
2 tablespoons butter
2 tablespoons olive oil, 1 for the onions and 1 for the kale
1 sheet puff pastry
1 tablespoon grainy or dijon mustard
3 ounces (113 grams) kale, shredded
1 cup (about 3.5 ounces, 99 grams) red or black seedless grapes, halved
2 ounces (57 grams) fresh goat cheese or parmesan cheese
salt and pepper

Put 2 tablespoons butter and 1 tablespoon olive oil in a wide shallow pan that has a cover, and set over medium-low heat. When butter had melted, add onions and a healthy pinch of salt. Stir to coat, cover the pan, and turn heat to low. Cook, stirring occasionally, until onions have softened and started to caramelize, about 20 minutes.

Remove cover, turn heat to medium-low, and let the onions start to brown more, stirring at more regular intervals. Cook for 10-15 minutes more, until onions are very soft and golden brown. Set aside.

Meanwhile, set puff pastry on a flat surface, cover lightly with a dish towel, and allow to thaw enough that if it's folded, you can open it up without ripping it. I find this takes roughly 25 minutes. Alternatively, you can stick the package of puff pastry in the fridge overnight, which also does the trick. Trader Joe's puff pastry comes in a flat 9-inch square which makes thawing less important. If you make your own, well, you're fancy-pants. Ignore all of this.

Preheat the oven to 350.

When puff pastry is ready to use, unfold or roll into roughly a 9-inch square (though exact size and shape really don't matter here) on a lined baking sheet. Spread a very thin layer of mustard – 1 tablespoon total – on the puff pastry, leaving a 1/2-inch border. Distribute caramelized onions over the mustard, and then pile on the kale. Distribute halved grapes evenly over the kale, and top with little bits of goat cheese or clouds of grated parmesan.

Drizzle the remaining tablespoon of oil (ok, maybe a a tablespoon and a half) over the kale, and sprinkle with salt and pepper.

Transfer puff pastry on baking sheet into the oven, and bake for 25-30 minutes, until pastry is golden, kale is browned and crisped, and grapes are glistening. Cut the tart into 9 equal squares, and serve warm or at room temperature. You can also refrigerate the tart and then reheat it in a low (225-degree) oven for 10-15 minutes before serving.