Jerusalem is a city of enclaves. There are Yemenites and Iranians and Bukharians, Russians and Syrians and Brazilians, Ethiopians and Venezuelans and Jordanians, Libyans and Italians, French and Americans. Each group has its own neighborhoods, its own language, its own culture, its own food. And now, there's finally a book cataloguing everything.
Yotam Ottolenghi was raised in mostly-Jewish western Jerusalem. His partner, Sami Tamimi, was raised in Muslim east Jerusalem. They now live in London, where they run restaurants – but both still think of Jerusalem as their home. The two have collaborated on a new cookbook called Jerusalem, which they claim is a self-indulgent nostalgia trip. I've been leafing through this book before bed for a couple weeks now, and I couldn't be happier to be along for the ride.
If you've cooked from Plenty, you'll instantly recognize the style of recipes in Jerusalem. Lots of fresh vegetables, plenty of legumes, olive oil in every pan, generous use of eggs and yogurt. This book isn't vegetarian, but I'd say probably 85% of the recipes are. And while in Jerusalem there are 200 ways to eat meat, it's the fruit and vegetables that I (and clearly they) miss the most. They are in such abundance there that you can't not use them. You can't not top every salad with a handful of fresh herbs, chop up an Israeli salad to go with your meal, cut open as perfect a tomato as you'll find outside of Italy. This book is a celebration of all that makes Jerusalem's food life quirky and intimate and conflicted and wonderful. I can't stop reading it; and while I've only just begun to cook from it, I can tell I'll be doing that regularly from now on, too.
If you do have the book, here are a couple of recipes to make now. Make the roasted cauliflower and hazelnut salad. It looks simple, but the cinnamon and roasted hazelnuts make the cauliflower somehow more romantic. If you still have access to good tomatoes, make Na'ama's fattoush. It's not the fattoush I ate in Jerusalem, but I think that's the point. Make the kubbeh hamousta, which still is my favorite food in Jerusalem (especially if you eat it at Morduch). And then, if you want to be totally and completely wowed, suspend judgement and make this: pan-fried snapper with spicy harissa and rose.
I'm not a huge fan of rose water. I usually find the flavor too strong and perfume-y. But for some reason, this recipe spoke to me. The fish and the spicy harissa lasso the rose water into subtle submission. It lends scent and sophistication to the dish without overpowering it. The result is a line-up of firm fillets, crowned with vivid red sauce that's as spicy as you want it to be, but also sweet from currants and soft onions. And that rose water – I was as surprised as you probably are. D, too. This isn't the kind of recipe I'd put into the regular rotation, but I'm officially looking for an occasion to make it again.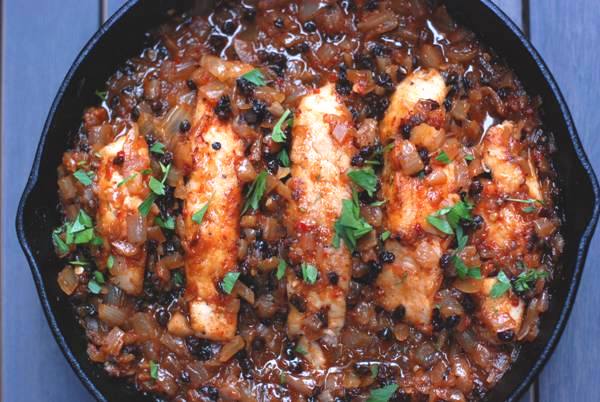 And krantz cakes. And Muttabaq. And burnt eggplant with garlic, lemon, and pomegranate seeds.
You know where to find me.
Snapper with Harissa and Rose
Adapted from Jerusalem, by Yotam Ottolenghi and Sami Tamimi

The book calls for sea bass, but sustainable sea bass isn't available where we live, so I used snapper. Make things easy by asking your fishmonger to remove the pin bones and cut the fish into 1/4-pound fillets.

Ottolenghi calls for 1/2 cup of currants, but this makes the sauce a bit too sweet. I cut the amount to 1/4 cup and was happier. He also says the cilantro is optional; I disagree. It adds an important fresh note to the finished dish.

If you're feeling fancy, you can buy edible rose petals, which Ottolenghi and Tamimi use in the book and which look gorgeous. I was feeling practical and somewhat harried; I skipped them.

2 tablespoons harissa
1 teaspoon ground cumin
Four 1/4-pound fillets of any firm, fleshy white fish, skinned and with pin bones removed
All-purpose flour, for dusting
2 tablespoons olive oil
1 large onion, diced
6 tablespoons red wine vinegar
1 teaspoon cinnamon
1 cup water
1 1/2 tablespoons honey
1 tablespoon rose water
1/4 cup currants
2 tablespoons chopped cilantro
2 teaspoons edible rose petals (optional)
salt and pepper

Prep the fish:: Mix 1 tablespoon of harissa, the cumin, and 1/2 teaspoon of salt together and rub all over the fish. Set aside.

Heat the olive oil in a wide frying pan (preferably nonstick or castiron) over medium heat. Dust fillets with flour and shake off excess. Gently lay fillets in the pan and fry for two minutes on each side. If you're concerned about overcrowding the pan, cook the fish in batches. Remove cooked fish to a plate, leaving the oil in the pan.

Make the sauce: Add the onions and cook for about 8 minutes, stirring periodically, until soft and golden but not browned. Add the remaining harissa, vinegar, cinnamon, 1/2 teaspoon salt, and several grinds of black pepper. Pour in the water, stir to combine, lower the heat, and cook for 10 minutes, until sauce has thickened considerably.

Add the currants, rose water, and honey. Simmer for a couple more minutes. Taste and adjust the seasoning as necessary, then return the fish back to the pan, spooning some of the sauce overtop. Leave the fish to heat up in the sauce for about three minutes, adding a tablespoon or two of water if the sauce is too thick. Remove from heat, sprinkle with cilantro, and serve immediately with plain rice or crusty bread.