We spent nearly two weeks in Berlin at the beginning of January. It's a funny thing, going on vacation to a very cold country in a very cold season. For the bulk of the twelve days, we were extremely cold. Think numb fingers and toes, brief peeps at the outdoors under gobs of scarf and hat. I'm not someone you'd call a trouper – just ask my travel companions! – and in at least half of our pictures, I'm the one jumping up and down in the corner of the frame, trying to stay warm. Still, there's something kind of magical about traveling to a city in the off-season. It felt truer, somehow, to experience Berlin at a time when most of the people "experiencing" the city weren't tourists, but residents.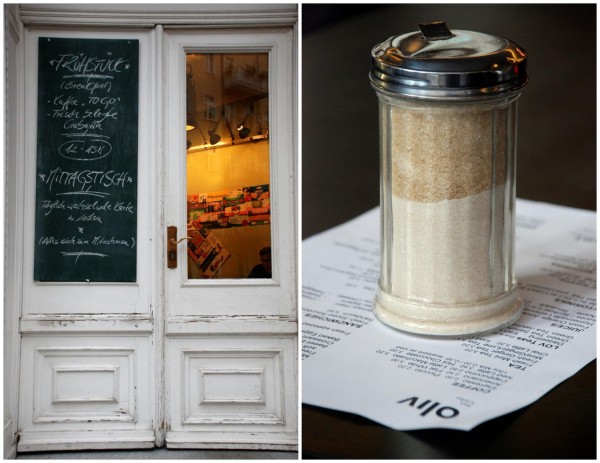 And it's worth mentioning that what we found to be cold was actually quite mild for Berlin: highs of 8° C, lows of maybe -2°? Nothing compared to the -20° C they put up this time last year. So we'll take it.
In many ways, I'm still processing our experience. On one hand, this was a vacation. It was a chance to get away from busy jobs and cold winter (well, in theory?) and experience a city we've both long wanted to visit. We ate great food, drank fantastic and embarrassingly cheap beer, visited countless museums, and took in every ounce of Berlin. On the other hand, this was also a trip about experiencing Germany's past. D's uncle was born in a Bomberg DP camp back in 1947. I don't think her family has been back since then. Germany memorializes the victims of World War II in many ways, and we spent several days of our trip really steeping ourselves in this period of German history. We also spent a day in Worms, where we visited the oldest Jewish cemetery in Europe, and a day in Heidelberg, where we visited the Rabbinical college there. We saw the Berlin Wall, Checkpoint Charlie (the historical checkpoint between East and West Berlin), the old Reichstag building, which housed the German parliament before the war. In many ways, this trip was a study in the stark contrast of the old and the new.
While in Berlin, we stayed at a little hotel on Auguststraße in Mitte, which is German for "middle" and definitely at the center of (at least some of) the action. Mitte has great, hipster-approved coffee, and tons of little galleries and chi-chi clothing shops. It has a charcuterie station and wow, so many little beer bars, and of course, bakeries for every hour of the day. (Literally: 6 AM on Sunday, when the whole world of Berlin is asleep, there is one blessed little bakery that is open for business and has all the quart donuts you could need at 6 AM on a Sunday.)
Our favorite coffee of the trip was from The Barn, which we visited most every morning. Their cafe was just a couple blocks from our hotel (and their roastery was a 15 minute walk away). The space is sweet and small, the coffee is perfectly brewed – much lighter and cleaner than what the hipsters brew in the States – and the sandwiches, on craggy baguette, loaded with good meat or cheese and lovely little gherkins, are just the thing to tuck in the sack for a day's worth of touring. That's just what we did.
We spent lots of time just walking around. Berlin has enough architecture to keep one busy for weeks. We tried to take in as much as we could.
My vacation rules are strict, and one of them involves many, many pastries. I ate lots of wonderful pastries on this trip, and most of my favorites came from Balzer Bäckerei. In a trendy neighborhood like Mitte, Balzer is stubbornly untrendy in the best possible way. It has lace curtains on the doors, dim yellow lighting like in your Grandma's house, morning coffee from a thermos, but boy, the best pastries ever. Its owner and baker is still there most mornings. Over the eight-ish times I visited, I was helped either by her or by the one other baker at Balzer. Both are probably in their seventies; neither speaks a lick of English. There was a lot of pointing, nodding, smiling, counting, then biting, chewing, cooing, gushing, and making a big thumbs up, to approval and gracious nods by the ladies behind the counter. Our little system worked well.
Before we left, D made a commitment to consume at least half of her calories in beer form. Not sure we hit that goal, but we came close, thanks to two spots around the corner from home. One, Schwartzwaldstuben (try pronouncing that beast of a word!), serves food from Germany's Black Forest (that's what "Schwartzwald" means), and of course, plenty of beer. Mismatched furniture plus helpful bartenders who taught me to pronounce the German word for cake (that's not "kutchen" but rather "KOOOOOcccchhhhen"): what more could a girl want?
At some point I wanted more beer and different beer and really good brats and sauerkraut, and that's all what led us to another place on the opposite corner, Aufsturz. Great (long!) beer list, very friendly, helpful servers, and really, one of the best brats I had in Berlin. No frills, just a straight-up good bar.
One evening, I found myself on my own and without much of an agenda. D and our friends were in the center of town, and I decided to skip out and take it easy – but suddenly I was hungry, and craving some German Riesling. So I ducked into Lokal, which does modern riffs on German classics and which apparently is having a major moment right now. It took many friendly glances and big wide smiles to charm the bar tender into squeezing me in at the bar. And guys? He was the sweetest. He took control, walked me through the (all-German) menu, and even poured me a glass of late-harvest Riesling to go with my dessert, on the house. I loved it there.
I also loved Oliv, a little cafe on Münzstraße with great flat whites, quiche, and pastries. It's also the home of that funny neon "Stupido" sign pictured above. J'adore.
Our days in Worms and Heidelberg weren't too shabby, either. We toured the castle, walked around town, ate pretzels and drank more beer. Not a terrible way to spend a couple of chilly days.
And how could I wait this long to share one of the true highlights of my trip? I met up with the lovely Luisa Weiss, of The Wednesday Chef. Guys, they don't come any sweeter or more charming than Luisa. And it was such fun to finally meet in person, considering how long we've been blog buddies. Such a thrill!
Luisa armed us with some wonderful recommendations for the afternoon. We headed out to her neighborhood, Charlottenburg, in the west, where we popped into two beautiful art galleries before grabbing yet more hefeweizen and spaetzle (amazing spaetzle, with ridiculously good beef stew) at Engelbecken, a neighborhood gem. Clearly very popular, late Friday afternoon every table had a "reserved" card on it. We convinced them to let us eat quickly before the smarties with reservations arrived, and I'm so glad we did. Luisa, it was delicious. Thank you!
What more can I tell you? Berlin and I got along very well. We all just loved the city, and we can't wait to return.
In case you have plans to head to Berlin, I've put together a handy map of the highlights of our visit, which I hope you find helpful. I didn't even mention the two consecutive Saturdays we spent at Hackescher Market, a lovely outdoor flea in Mitte, which includes craft vendors, raw food, and plenty of cooked things. My favorites were the gozleme, Turkish flatbread, cooked on a huge dome and stuffed with spinach, feta, and spicy sauce. I also loved the okra and broad beans in tomato that so many of the Turkish vendors were selling. Don't miss Hackescher Market. Here's the map:

View Berlin in a larger map
Alright folks, I could go on and on. Suffice it to say that we'll be back in Berlin one of these days, hopefully in summer, when the weather is warm and the city moves outside. For now, I'm still thinking about all that beer….and making my second batch of homemade sauerkraut. Stay tuned.