The latest installment of my Weekday Lunch series, making midday meals the best part of your work week.
This time of year, our house is mostly a calm shade of grey. The scarce daylight hours feel like borrowed time, where after lazing around for a few two many minutes, I suddenly freak out that the sun is half gone, and drag my sluggish, slippered feet into the kitchen to bask in what little brightness is left before dusk. Hey there, January. Don't let the door hit you on the way out.
As winter has tightened its hold, I've taken comfort in the various components of meals I've stowed away in our freezer. There are bags of cooked barley and brown rice, blanched green beans, and even kabocha squash braised in coconut milk. There is plenty of stock — some poultry, leftover from Thanksgiving, and some vegetable, made from my carrot peelings and celery and leek scraps. These bits find their way into dinners and lunches: the stock becomes soup, the rice gets tucked under my new favorite aloo muttar (recipe soon!), and that kabocha — I ate it alone, because it was perfect.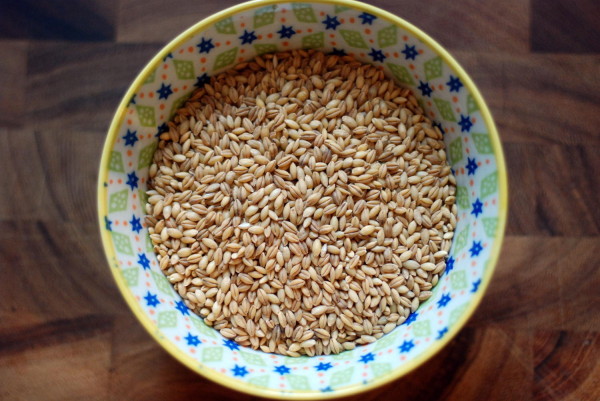 Just before we left for Berlin, I took half a bag of the frozen barley and made this lovely salad that Heidi shared in the December issue of Food and Wine. Yes, I'm talking about salad. In January. Pick that jaw up off the floor.
In my neck of the woods, non-kale greens are many months away. If a girl is gonna eat salad in January, she needs some variety. That's why I took a page from Heidi's playbook: Heidi is the queen of "grain bowl"-type dishes that combine all sorts of grains with whatever vegetables, nuts, seeds, and fruit are in season. I've been inspired by many of her concoctions, and this one is no exception. It's the sort of salad that flexes to meet the needs of your pantry and the occasion. You could double the barley and have a nicely-flavored grain side dish, or increase the amounts of the other ingredients to make it heavier on the fresh stuff. If I were doing that, I might add some diced celery, which would fit right in.
On substitutions: Heidi calls for farro, which I love, but man, is it expensive. I use it from time to time, but barley is a more economical choice. She also calls for Pecorino cheese. I rarely have it in the house, but I always, always have Parmesan. As tempted as I was to swap, I didn't, and I'd recommend you don't either. The Pecorino brings a clean, bright saltiness to this salad – one that doesn't overpower the olives and goes so well with the walnuts. Stick to Heidi's guidance on that one; she won't steer you wrong. Ditto on the Castelvetrano olives. Castelvetranos are juicier and fruitier than other olives, and much less salty and briny than the ones with pimento tucked inside, for example. They sound exotic, but they're actually quite easy to find: they're the big forest-green ones with taut skin. You can find them (pitted and ready to go!) at the Whole Foods olive bar, and TJ's also carries jars of them on occasion. Go forth.
Make it vegan: This salad becomes vegan in a snap. Skip the pecorino, add an extra quarter-cup or so of olives, boom.
Barley Salad with Green Olives, Walnuts, and Raisins
Adapted from Heidi Swanson's recipe in Food and Wine

1 1/4 cups farro or barley (1/2 pound)
Fine sea salt
1 cup walnuts (3 1/2 ounces)
2 1/2 cups pitted Castelvetrano or other green olives, chopped (11 ounces)
4 scallions, white and light green parts only, finely chopped
1/3 cup minced chives
2 tablespoons golden raisins
1/2 teaspoon crushed red pepper
1/4 cup extra-virgin olive oil
3 tablespoons fresh lemon juice
1 tablespoon honey
Shaved Pecorino cheese, for serving

Combine the farro or barley with 4 cups of water and 1/2 teaspoon of salt. Bring to a boil and simmer, partially covered, until the grain is tender, about 20 minutes for farro and 45 minutes for barley. Drain, and spread it on a baking sheet to cool.

Preheat the oven to 375 degrees. Spread the walnuts on an unlined rimmed baking sheet, and toast for 7-9 minutes, until very fragrant. Let cool, then chop coarsely.

In a large bowl, combine the farro, walnuts, olives, scallions, chives, raisins, crushed red pepper, olive oil, lemon juice and honey and season with salt. Toss well. Transfer the salad to a platter or serving bowl, garnish with the cheese, and serve.

Heidi says the salad can be refrigerated overnight – just bring it back to room temperature, and add the cheese just before serving.