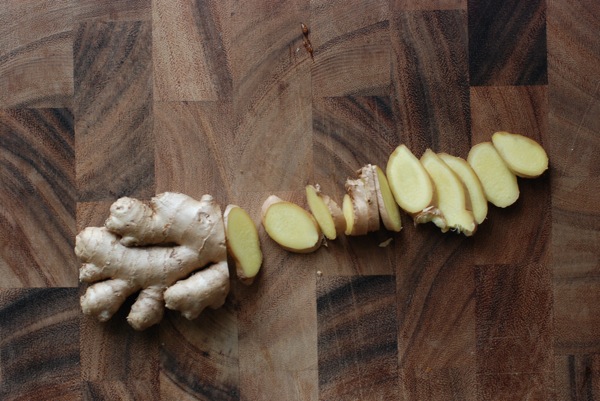 Until recently, I'd always bought ginger at the grocery store. It always looked kind of dry and gnarly outside, but I'd learned that peeling it revealed a soft, fresh, meaty interior, as great in stir-fry as it was steeped in tea. But last year, I learned that the folks at Next Step Produce, a local farm, were selling the knobs of fresh ginger at the Dupont farmers' market. The stuff was sort of legendary; a certain Jeremy Brosowsky had been singing its praises for months, and when fall finally rolled around, I was eager to pick some up. The fresh ginger was approximately 5,723 times more expensive than the stuff at Harris Teeter, so I had high hopes, and I wasn't disappointed. The flavor was smoother and sweeter, and yet more pronounced. It was also easier to slice. I was hooked.
I already was pretty big on ginger, but once I had the fresh stuff to play with, I couldn't stop. D can attest, since she's not very into it. I continue to insist that if she'd only give it a chance, she might like it. Quite the stubborn wife, aren't I?
If you're a ginger lover, welcome to heaven. If you're a hater, please, don't click away. Humor my insanity stubbornness — ginger is great. I'm doing my darnedest to convince you, if not with the recipes that follow, then with some fun facts: ginger is one of the few tubers that's great in both sweet and savory preparations. Its spice brings depth to soy marinade, and it also does wonders in ice cream. Research has also shown that ginger has medicinal properties. (Yes, I just linked to wikipedia. Sue me.)
Ok, to the good stuff. Here are some creative and/or delicious ways to use ginger.
In tea.
Ginger makes a fantastic hot drink. Whether you're dropping a few slices into a cup of lemon tea or simply steeping it with hot water and honey, its flavor is strong and pungent; a glass of anything ginger-infused will clear your passages on the spot. Other flavors that work well infused along with ginger are cinnamon, maple, and apple. Add a few slices to mulled cider; you won't be sorry.
In marinade.
One of the best uses for ginger is in marinade. As in ice cream, the pungency softens as it soaks, and perfumes whatever it coats, be it something as robust as beef or as bland as tofu. Below is one of my favorite marinades, from a recipe for tuna in Bon Appetit
Ginger-Chile Marinade

3 tablespoons unseasoned rice vinegar
2 tablespoons finely grated peeled fresh ginger
2 tablespoons peanut oil
2 tablespoons Asian sesame oil
2 tablespoons soy sauce
2 tablespoons honey
1 tablespoon chopped fresh cilantro
1 serrano chile, seeded, minced
Fried.
Minced fried ginger is one of my favorite additions to Asian dishes. I think the first time I did it was when I made this Ginger Fried Rice, and since then, I've added it to countless similar dishes. Just as fried garlic is lovely over pasta with olive oil and parmesan, fried bits of ginger take ordinary fried rice, braised tofu, or cabbage slaw to a new level.
In Ginger Ice Cream.
Seriously, my favorite ice cream flavor is ginger. The cream and egg yolks smooth out ginger's rough edges and counterbalance its spice. I've included my ginger ice cream recipe below, which is an adaptation of one from the great David Lebovitz.
Ginger Ice Cream

3 ounces of unpeeled ginger
1 cup whole milk
2 cups heavy cream
3/4 sugar
Pinch of salt
5 large egg yolks
1/2 cup crystallized ginger, chopped (optional)

Cut ginger into thin slices. Place ginger in a medium saucepan, add enough water to cover the ginger, and bring to a boil. Boil for 2 minutes, then drain, discarding the liquid.

Return the blanched ginger slices to the saucepan and add milk, half of cream, sugar, and salt. Heat the mixture until hot but not boiling, then cover and remove from the heat. Let steep at room temperature for 1 hour.

Rewarm the ginger-milk mixture. Remove the ginger slices with a slotted spoon and discard. Pour the remaining cup of cream into a large bowl and set a mesh strainer overtop.

In a separate medium bowl, whisk the egg yolks. Slowly pour the warmed mixture into the egg yolks, whisking constantly, then scrape the warmed egg yolk mixture back into the saucepan.

Stir the mixture constantly over medium heat with a heatproof spatula or wooden spoon, scraping the bottom and corners of the pan as you stir, until the mixture thickens enough to coat the back of the wooden spoon. Pour the custard through the strainer into the cream, and stir to combine.

Chill the mixture thoroughly in the refrigerator, then freeze it in your ice maker according to instructions If using crystallized ginger, add when ice cream looks like soft serve frozen yogurt, about 2 minutes before it has finished churning.
Make Ginger Simple Syrup.
If you've got leftover ginger lying around and you don't know what to do with it, here's a tip: make ginger simple syrup. Simple syrup will capture the ginger flavor and extend it indefinitely (the stuff has serious shelf life). Store it in a small jar in your fridge door, and you'll find countless ways to use it: add it to a glass of bourbon, drizzle it in tea, or make this easy summer cocktail, the Tamarind Ginger Fizz.
And there you have it: a smattering of ideas for what to do with ginger. Hopefully I've enticed you ginger lovers and converted some of the ginger haters out there!
Before you go, do me a favor and take my survey about what ingredient I should feature on the next How to Use. The last box is blank: if you're not keen on any of the options I suggest, feel free to write in your own.
[SURVEYS 1]