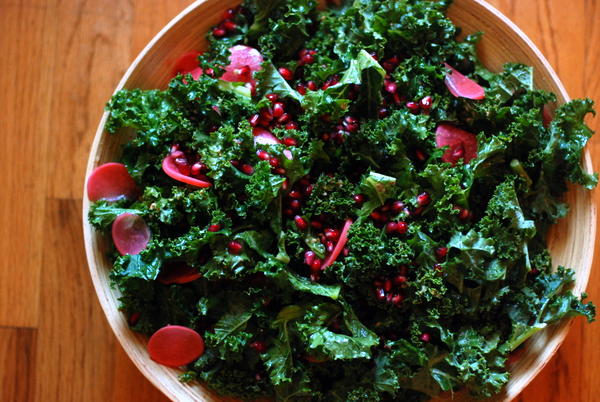 We've officially overdosed on turkey. As is: in sandwiches, in hash with an egg on top (twice), in soup. I think we're done. Momentarily ignoring that fact that I can't really handle more poultry right now, I'm also mulling over some quasi-ambitious plans for Christmas Eve involving a whole duck with all of its pieces. It's cold out, though not as cold as it's going to get, and I'm trying to steel myself for a blustery, dark December.
But first, before it gets too cold to think about salad, I wanted to share this little number from our Thanksgiving table. It's pretty straightforward: curly kale, simple picked radishes, pomegranate seeds. A dressing made with plenty of really good mustard. That's about all.
At Thanksgiving, the kale was merely a prelude to a feast, so I kept things simple. That said, I think this would make a lovely bed for a piece of simple roasted salmon. Or you could bulk it up by adding slices of roasted chicken and some croutons.
I'm serving it tonight, alongside roasted fish with harissa and a farro salad from F&W that I can't wait to share with you. Dessert is baked apples, but just in case any of our guests are less finished with Tday than we are, there will also be leftover chocolate pecan pie.
Have a great weekend, folks.
Giveaway alert: In case you missed it, we're doing a giveaway of a lovely Nudo Olive Oil gift pack. Four 8-oz. canisters of olive oil (lemon, basil, chile, classic). To enter, leave a comment here by midnight on December 8th. Good luck!
~
Music to cook by: When my buddy Carol Blymire cookedthrough the French Laundry cookbook and the Alinea cookbook, she always shared the music that kept her jammin' to the end of the dish. I generally keep a pretty silent kitchen (clanging pots and splattering oil excepted), but today I listened to a new-to-me band called St. Lucia, and it may just become my new cooking jam. The musical kind – you know what I mean.
~
One year ago: Cocoa-Rye Raisin Bread
Two years ago: Maple-Roasted Pears
Three years ago: Mozzarella in Carrozza
Four years ago: Cauliflower with Brown Butter
Five years ago: Winter Salad with Pears and Manchego
Six years ago: Saffron-Nutmeg Rice Pudding
Kale Salad with Pickled Radishes and Pomegranate
Radishes adapted from David Lebovitz
Serves 6-8

For the salad:
3/4 lb. (about 8 cups) curly kale, torn into pieces
Seeds of one pomegranate (about 1 1/2 cups)
1/2 cup pickled radishes (recipe below)
1/2 cup toasted pumpkin seeds, optional

For the dressing:
1 1/2 tablespoons grainy mustard (choose one that you really enjoy)
2 tablespoons white wine or champagne vinegar (or substitute rice wine vinegar)
4 tablespoons extra-virgin olive oil
1/2 teaspoon kosher salt
1/2 teaspoon fresh ground pepper

For the pickled radishes:
8 round red radishes, trimmed and thinly sliced
1 cup water
1 cup white vinegar
2 teaspoons sea salt
2 teaspoons honey
1 clove garlic, peeled and sliced
1/2 teaspoon cracked peppercorns
1 bay leaf
2 cloves
1 dried chile pepper, optional

Make the pickled radishes: In a small saucepan, bring the water, vinegar, sea salt, and honey to a boil, stirring until salt and honey have dissolved. Off the heat, add garlic, peppercorns, bay leaf, clove, and chile, if using. Pack the radishes into a pint jar, pour the hot liquid overtop, cover, and refrigerate. Pickes will be ready to use in 24-48 hours.

Make the dressing: Mix all ingredients in a jar, seal, and shake until combined.

Assemble the salad: Put kale in a large, wide bowl. Dress lightly, then massage kale with your hands to work the dressing into the leaves. Taste, and add more dressing as needed. Add and distribute remaining ingredients, toss to coat lightly with dressing, and serve.