I'm at the point with my summer bounty where peaches go in my salads about as often as tomatoes do. Peaches have a different kind of lusciousness than tomatoes, the juice dribbling out of every bite rather than bursting out all at once as soon as you bite in. I like how the slices of ripe peach coat my lettuces, taking some of the burden off vinaigrette. Truth be told, I don't use much dressing in the summer.
As much as I'm a sucker for juicy bowls of salad, I swooned when I saw this unconventional, more subdued number in last month's Food and Wine. It's from Stephanie Izard, of Top Chef fame, who's got what I hear is a top-notch restaurant in Chicago called Girl and the Goat. I've been jonesing to eat there on my last few trips, but haven't yet had the chance. For now, there's this salad to tide me over.
Like I said, it's subdued. This isn't one of those big, juicy salads where everything's bursting in your mouth. That said, it's easy to make, and those of you with CSAs will surely appreciate another way to use up all that kohlrabi.
If you aren't facing the fortunate predicament of a kohlrabi abundance, fear not: you can still make this salad. I used 1 kohlrabi, but also added a few handfuls of asian salad greens, which lightened up the plate a bit. (Too much kohlrabi and fennel, and it starts to feel like winter.) I've listed my proportions below, but feel free to stray from them as much or as little as you like.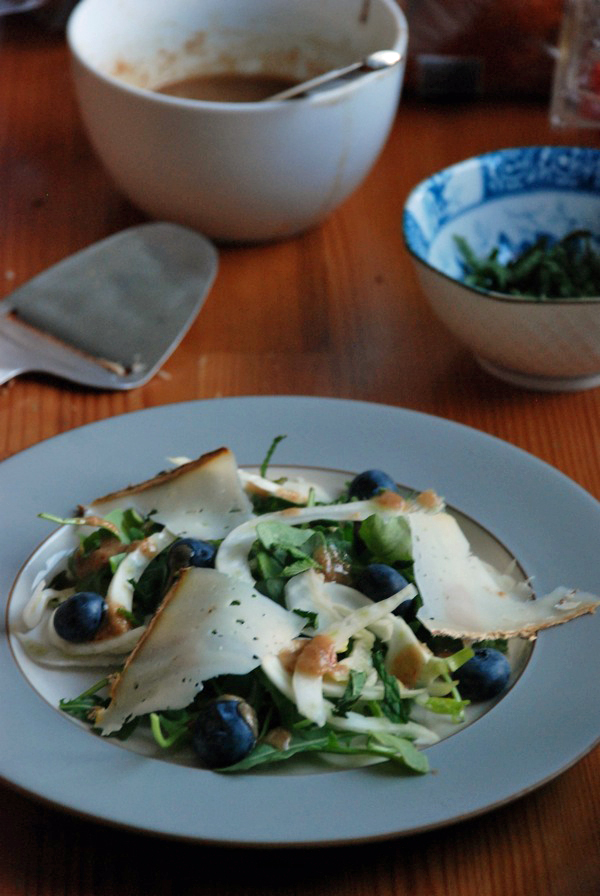 What makes this salad special, though, is the goat cheese. Izard has you use a semifirm goat cheese – the kind you can slice, if it's well-chilled – and the cheese's smooth, grassy flavors play against the blueberries really nicely. If you don't have or feel like buying a fancy goat cheese, you can use regular goat cheese (fresh chevre) instead. Just drop little mounds over the finished salad.
Dare I say it, I actually think this salad might benefit from a few slices of warm, juicy peach. But for now, I'm leaving it as is, saving the peaches for my tomato salads.
Kohlrabi, Fennel, and Blueberry Salad
Adapted from Stephanie Izard and Food and Wine

My biggest adaptation here was – surprise! – omitting the mayonnaise. If you like that sort of thing, feel free to add 1 tablespoon to the dressing when you add everything except the oil.

1/2 cup sliced almonds
2 tablespoons minced peeled fresh ginger
2 tablespoons minced shallot
1 tablespoon white balsamic vinegar (regular balsamic also works here)
1 1/2 teaspoons Dijon mustard
1 teaspoon soy sauce
1 teaspoon pure maple syrup
1/4 cup grapeseed oil
Salt and freshly ground pepper

1 medium-to-large kohlrabi, peeled and very thinly sliced on a mandoline
1 fennel bulb, trimmed and thinly sliced on a mandoline
3 oz. mixed salad greens (I used Asian greens and some arugula)
2 ounces semifirm goat cheese, such as Evalon, Garrotxa or Manchester, shaved (1/2 cup)
1 cup blueberries or pitted, halved sweet cherries
2 tablespoons torn mint leaves

Preheat the oven to 350°. Spread the almonds on a pie plate and toast for about 7 minutes, until golden. Let cool.

In a mini food processor or blender, combine the ginger, shallot, vinegar, mustard, soy sauce and maple syrup. Puree until smooth. With the blender on, add the grapeseed oil in a thin stream and blend until creamy. Season the dressing with salt and pepper. (Alternatively, simply whisk dressing by hand.)

In a large bowl, toss the kohlrabi with the fennel, cheese, toasted almonds and dressing. Season with salt and pepper and toss to coat. Add the blueberries and mint and toss gently. Serve right away.