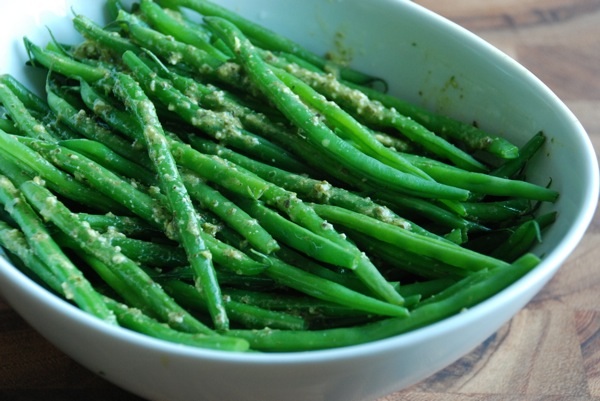 The humble green bean doesn't get enough love, I've decided. We're all so focused on bursting tomatoes and perfect peaches, sweet sweet corn and favas that take five times as long to peel as to eat (and are still totally worth it) and we totally ignore green beans. Unlike peaches, they don't get super juicy. Unlike tomatoes, they don't look any prettier at the farmers' market than they do at Safeway. And I don't know about you, but I'm so used to seeing grocery-store green beans all year round that somehow, the site of them at the market doesn't trigger that must-have-now feeling that, say, perfect baby okras inspire. (Incidentally, I got those okras. Thrice. I started this thread on Foodpickle, the only place on the web where you can ask a question and get a bunch of really smart answers, really quickly. Then I went and made this recipe. And this one. I also floured and fried a handful as an appetizer one evening. And then, with my last batch, I tried to follow my colleague's instructions for Bindi Masala but, let's face it, ended up with some strange not-quite-Indian okra curry. Still pretty good. I love okra.)
Back to the green beans, which may not have had me up at 8am as I do for tomatoes — freaked out they'll disappear before I get some — but did spark my attention enough that last week, I bagged a couple pounds from one of the farmers at the Dupont market. I wasn't quite sure how I'd use them, but I can tell you this: once those beans were tucked under my arm, I had no trouble at all getting excited brainstorming ways to use them.
And that's how we wound up here, with these beans. This is a simple preparation for a beautiful and underrated summer vegetable, one that'll perk up humble-looking beans and brighten any summer meal. Among the upsides of this dish: it's great served cold; it's very, very simple to make; and you can make the components a few days in advance, then combine and serve when you and your people are hungry. It's a good situation.
Most important of all, we're elevating the lowly green bean to its rightful place, situated among the finest vegetables summer has to offer.
Green Beans with Pesto Vinaigrette

1.5 lbs. green beans, ends trimmed, rinsed
1/4 cup pesto (homemade is always best, but store-bought is totally fine)
juice and zest of 1 lemon
3 Tablespoons good olive oil
salt and pepper to taste

Prepare the Green Beans: Fill a large pot with water and bring to a boil over high heat. Fill a large bowl with ice cubes, then with water. Set aside.

Blanch the green beans in 2 batches for about 2 minutes per batch, until beans are bright, vivid green. Use tongs to transfer beans from boiling water directly to ice bath. When beans are cooked and fully chilled, transfer from ice bath to a large bowl.

Prepare the Vinaigrette: Combine pesto and lemon juice in a medium bowl and whisk until combined. Drizzle olive oil in a slow stream, whisking constantly, until combined. Taste, and add salt and pepper as necessary.

Finish the Dish: Toss beans with pesto vinaigrette. Serve chilled, or set it out on the counter and let it come to room temperature.