Now then. That was fun, wasn't it?
I'm imagining you all with bellies full of turkey and stuffing, cranberry sauce and cornbread and maybe too much pie. As for me, this past week was fulfilling in other ways. Time in Israel, time with family, a wedding, a weekend, and plenty of food (though none of it Thanksgiving-worthy; I'm craving some pumpkin right about now).
But it's back to work, so around here, it's back to business. And by business, I mean lemon poppy seed sour cream cake.
This cake is a vague riff on one I made a while back, with lots of maple and plenty of yogurt and, surprisingly, not a trace of butter.
That was a good cake. This one is, too. It's fragrant from lemon and crunchy from those beautiful blue poppy seeds. It's plenty moist, just like its predecessor, but slightly lighter, because I swapped out the maple for plain old sugar. If you're a demerara kind of person, this cake would be just lovely with half regular, half demerara sugar.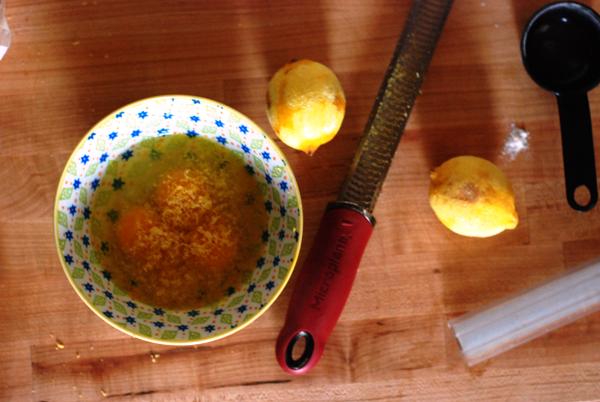 Post-Thanksgiving blues can overwhelm, especially when there's work involved. Take a piece of this to the office. While you're at it, bake up a second loaf for a friend. It's guiltless enough to count as an only-slightly-indulgent breakfast, and perfect with afternoon tea, which we've been drinking professionally these last couple of weeks. It's light enough to make even these increasingly cold days lighter and brighter. Before winter comes around, I'd like to keep soaking up this autumn sun. And eat more of this cake.
Lemon-Poppy Seed Sour Cream Cake

1 stick (4 oz) butter, softened
3/4 cup sugar
3 eggs
zest and juice of 2 medium lemons
1 teaspoon vanilla
3/4 cup sour cream
1 1/2 cups all-purpose flour
1 teaspoon baking powder
1 teaspoon baking soda
1/4 teaspoon salt
2 tablespoons poppy seeds

Preheat the oven to 350 degrees.

In the bowl of a stand mixer or a large bowl, cream butter and sugar together until light and fluffy, about 2 minutes. Add eggs one at a time, beating after each addition. Add lemon zest, juice, and vanilla, and continue mixing until the batter is smooth. Add sour cream and mix until fully incorporated.

In a separate bowl, combine flour, baking powder, baking soda, and salt. Add dry mix to the batter and mix on low speed just until flour mixture disappears. Add poppy seeds and mix for a few more seconds until distributed.

Butter and flour a loaf pan. Pour batter into pan, smooth the top of the batter, and transfer pan into the oven. Bake until top is golden brown and a toothpick inserted into the middle of the cake comes out clean, 50-55 minutes. Cool in the pan for 10 minutes, then slide a knife around the perimeter of the cake and carefully invert onto a rack.