I think I've confessed before that, despite my being Jewish, I really love the all-American, green-and-red, pine-scented, light-twinkling, gift-filled holiday that happens to coincide with Christmas. What better holiday than one that causes my colleague to bake several pounds of fudge, all at once, and give it all away? And the carols. The carols! It's true: I love Christmas. I know I'm not alone.
I'm pretty sure the reason we give gifts on Hanukkah is because otherwise, all the Jewish kids would be jealous. There's nothing about the origins of Hanukkah at all connected to gift-giving. Still, at this point, it's tradition. With the holidays upon us, there's no time like now to be uber-generous. Here are some suggestions for the foodie in your life.
FOR EATING AND DRINKING
Ovenly Cookies
Ovenly is a bakery in Brooklyn with some of the only cookies worth buying. We're talking black caraway shortbread; perfect peanut butter cookies; and Stumptown shorties, the best espresso cookies you've ever tasted. Cookies are roughly $30/dozen and worth every penny.
Tea Ceremony Kit
When I was in LA for work, I spent an hour before dinner browsing shops in La Brea and Melrose. That's when I happened upon Matcha Source, a sweet little shop on West 3rd St. that specializes in everything related to matcha. For the uninitiated: matcha is fine-powder green tea, delicious on its own, mixed into drinks, even baked into cookies. The proprietor of Matcha Source, Alissa White, is more passionate about matcha than anyone I've ever met. She'll tell you everything there is to know about it, even mix some up right then and there for you to taste. Her matcha is clean, pure, and transporting. She sells it in all sorts of forms, but the nicest gift, I think, is the ceremony set, which includes matcha, a scoop and sifter, and a whisk and bowl for serving. It's unique, and it's just over $50. Not bad.
Honey and Molasses Liqueur
Our good friends Kate and Rhett live in Madison, which gave us a great excuse to head out there and canvas over election day weekend. Madison is known for its beer, and rightfully so: in fact, Kate's brother opened a bar in Madison earlier this year where he serves, among other things, his own beer. Naturally, we tried them all. The #2 is, quite honestly, among the best beers I've ever had. If you're in Madison, don't miss One Barrel Brewing. But I digress: you see, Madison also has a fantastic distillery in town, called Old Sugar Distillery. They make some ridiculously good liqueur. I bought bottles of the Honey Liqueur and the Queen Jennie Sorghum Whiskey. The honey tastes like a sweet, rich bourbon; the sorghum is more complex and…challenging. It's not for the faint of heart, in a good way. I gave the honey liqueur to a friend as a gift, and you should, too.
Unless you're some sort of secret connoisseur, this will definitely be the best gin you've ever tasted. It's redolent of juniper, and it even has something sort of whisky-esque about it. I'm still not quite sure how to mix it without overpowering its flavor, but boy is it good in a martini. Also: it's local! Greenhat is brewed right here in Washington, DC.
Montreal Bagels
Much of my mom's family lives in Montreal, and as a kid, we used to take trips during the summer to see the relatives. The cardinal rule of Montreal: when in town, one must fill the belly with bagels. Montreal bagels really shouldn't even be considered a relative of their New York counterparts. They're boiled in honey-water and baked in a wood oven, and they taste like the most perfect, phenomenal toast you've ever had. And now, thanks to Montroyal Bagel, they can be shipped across North America. I've never had bagels from this bakery, so I can't vouch for them, but I admit: curiosity calls.
FOR COOKING AND SERVING
Gold Scale Tumblers
I really, really love these gold scale tumblers from Terrain. They look elegant in such an effortless way. My glasswear is my grandmothers, and it most definitely has a vintage look, so I'm always looking for other glasses to supplement my vintage goblets. These would be just perfect on a holiday table, wouldn't they? $20 each.
Sydney Hale Candles
Okay, not exactly for serving, but when you're having a dinner party, you'll be so happy to have these candles. A couple weeks ago, I went to one of my favorite stores on 14th street, Redeem. I usually go there for the clothes, but people, I stood there for 30 minutes with my nose in a candle. Actually, in like 7 different candles. These candles from Sydney Hale, they smell like home. But way, way better than my home smells. I want them, all of them. But if I had to pick just a few, I'd choose the Agave/Honeysuckle, the Clementine/Clove, and the Cypress/Cassis. But really, they're all fantastic. And to top it off, they're from right near here, in Virginia. Huzzah.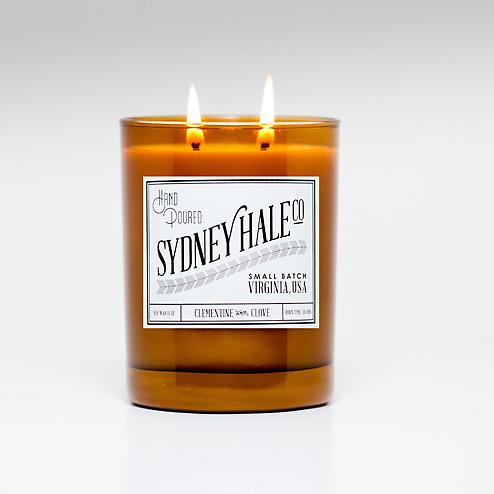 Owl Mugs
My officemate and I lost a good 10 minutes ogling over these owl mugs. They're little owls! And they make a great housewarming gift. Of course they're from Anthro. Of course.
Poppy Pie Pan
That apple pie needs somewhere to go, doesn't it? This sweet pie pan, also from Anthropologie, would be right at home in my kitchen, but I think I'll be giving it to my baking-inclined friends this season; in the dead of winter, this pan is bright and colorful enough to bring some cheer.
Simon Pearce Water Pitcher
Something about this pitcher really speaks to me. It's very streamlined but also elegant. We have a water pitcher, but I can see getting this for newlywed friends. Also: if I could buy those ice cubes, I would. Aren't they gorgeous?
FOR READING (AND COOKING)
Here are the books I'll be gifting this season:
By Yotam Ottolenghi and Sami Tamimi
I didn't know it until I read it, but I've been waiting for this book for a long, long time. In Jerusalem, Ottolenghi and Tamimi share recipes for so many of Jerusalem's essential foods, like kubbeh hamousta, that sour soup with big, meat filled dumplings; big, chocolatey babka and krantz cake; and ma'moul, the tumeric-colored sweet role cut to look like a wheel and filled with date paste. It's a book that will bring you back to a specific time and place. Or, if you've never been to Jerusalem, this book will make you want to book your first trip.
By Deb Perelman
Everyone's favorite food blogger finally has her very own book, and boy, is it a beaut. I went to hear Deb talk at Politics and Prose last month, and she said that every recipe in her book has been tested a minimum of six times. Six! If you're looking for foolproof recipes for everything from cinnamon toast french toast to butternut squash and caramelized onion galette and more,  look no further.
By Luisa Weiss
Luisa Weiss is a blogger and writer living in Germany her husband, Max and their little boy, Hugo. Her story is a captivating one, and you can read it start to finish in her new book. The prose will sweep you up and make you unable to do much else for about 48 hours; when you put the book down, you'll prop it open on a cookbook stand and make chorizo meatballs, red berry compote, and lots of delicious German recipes whose names are more complicated than their steps. This is a book to give someone who really gets lost in a good story and really loves to cook.
by Naomi Duguid
I don't yet own this book, but I looked through a friends copy and was utterly amazed. Naomi Duguid – also the author of Hot, Sour, Salty, Sweet, a culinary survey of Southeast Asia, has outdone herself with this book on Burma. I knew nothing about the food of Burma before seeing this book, but I'm really excited about the cuisine there. It's clearly Southeast Asian, heavy on fresh vegetables like banana flours, fresh fish, and plenty of coconut. Duguid's book is more than just a collection of recipes, though – it's truly a window into a largely undiscovered culture.
***
So that's it for this year's gift guide, folks. I hope you find everything you need for the foodies in your life. I'll be back later this week with a recipe. A delicious one, at that.