For most of you, this weekend was chock full of great food. I may not have had Christmas dinner, but I had a southern feast of fried chicken, pulled smoked beef, and collards that rivals the best Chinese takeout of my storied Jewish-Christmas past. Still, as I think back on the past couple weeks of eating, I tell you this with little hesitation: long fusilli with Marcella Hazan's Tomato-Eggplant sauce is the single best food item I've eaten in weeks.
Rewinding a bit, here's a confession that may come as a surprise, given my new obsession: I don't much like eggplant parmesan. If the casserole goes from the oven to my plate without passing go, I can get into the soft eggplant, the pool of sauce, the bubbling cheese. But as it cools, the eggplant firms up, the cheese congeals, and I'm pretty much done.
Everything bad about eggplant parm disappears in this sauce: no hardened melted cheese, no unappealing eggplant texture. What you're left with is eggplant, lightly breaded and fried, then cut into strips and folded into a clean, bright tomato sauce. The eggplant strips thicken the sauce and give it body; more than simply coating the pasta, it clings in big chunks and little bits, the texture somewhat uneven in the best way. For you by-the-book types, Marcella recommends spaghettini; I find this sauce is the perfect foil to those long fusilli that I love so much.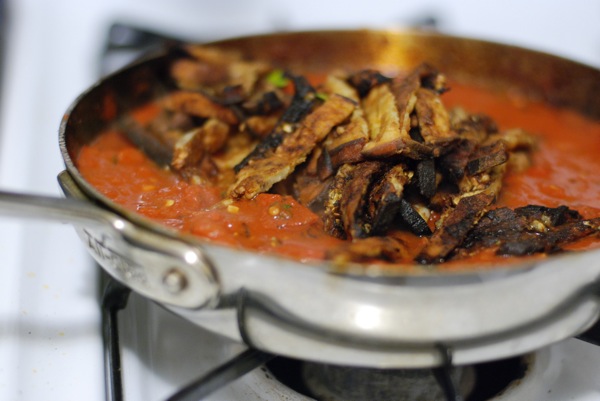 Since by now surely you know I'm not the best at following instructions, I can confess that I read this recipe wrong and floured my eggplant before frying. I'm here to tell you that flouring the eggplant is something you do for the recipe below this one in the book which, ironically?, is eggplant parmesan. Ignore my pictures; don't flour your eggplant.
Some people like mac'n'cheese, others go for matzah ball soup; this is my version of comfort food, and I could eat it for nights on end without a complaint. Here's hoping you like it as much as I do.
Marcella Hazan's Eggplant Sauce with Tomato and Red Chili Pepper
serves 4 for Italian-style primi portions, 2 plus leftovers for a main course

1 large eggplant (about 1 pound)
salt
vegetable oil for frying

3 tablespoons extra virgin olive oil
1 1/2 teaspoons chopped garlic
2 tablespoons chopped parsley
1 3/4 cups good quality (Marcella says Italian!) canned tomatoes, cut up, with their juice
chopped hot red chili pepper, to taste (can sub dried chili flakes)
1 pound pasta

Trim ends off eggplant and peel it. Slice into 1/2-inch slices.

Set a colander in the kitchen sink or in a large bowl. Stand one layer of eggplant slices upright against the inside of the colander and sprinkle (not too generously, but not timidly either) with salt. Stand another layer of slices against the first layer, sprinkle that layer with salt, and continue until all eggplant has been salted. Let salted eggplant stand for 30 minutes.

After 30 minutes, blot eggplant slices thoroughly dry with paper or cloth towels.

Set a large frying pan with sides at least 2 1/2 inches high over high heat. Add enough vegetable oil to come 1 1/2 inches up the sides of the pan. Line a large plate with paper towels.

Test the oil by dipping one slice of dried eggplant into the oil. If it sizzles, the oil is ready for frying. Slip as many slices of eggplant into the pan as will fit in a single layer. Cook to a golden brown on one side, then turn them and cook the second side. When both sides are golden, use a slotted spoon or spatula to transfer them to the towel-lined plate. Repeat until all eggplant is done. If the oil becomes so hot that the eggplant starts to burn, reduce it slightly.

When all eggplant has been cooked and is cooling on the plate, drain the pan and wipe it clean. Add olive oil and garlic to pan, and turn heat to medium. Cook and stir the garlic until it colors lightly. Add parsley, tomatoes, chili (start with a little, add to taste) and a pinch or two of salt, and stir thoroughly. Adjust heat so that the sauce simmers gently, and cook about 25 minutes, until oil separates from sauce and floats free.

Cut eggplant into strips about 1/2 an inch wide. Add to the sauce, cook another 2-3 minutes, and stir once or twice to incorporate. Taste and correct for salt and heat.

Advance prep: Sauce and eggplant can be made up to 4 days in advance. Keep eggplant separate from sauce. Reheat sauce while pasta cooks, and add eggplant just before combining sauce and pasta.

Cook pasta 1 minute less than package directions. Drain and add to sauce. Use tongs to incorporate. Serve immediately.