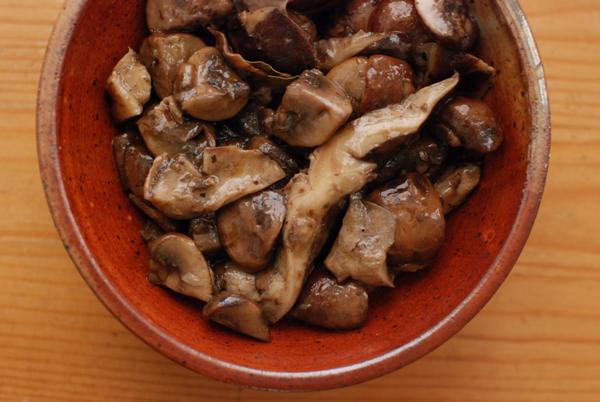 This is part of a series on great side dishes for Thanksgiving and year-round. The first of the series can be found here.
To my mind, there are two foods whose flavor profiles are so diverse, they can taste like just about anything. One is cheese, which can taste sweet or salty, buttery or nutty or mild, grassy or spicy or altogether funky, like hot peppers or red wine, pure raw milk or bay leaves. The other? Mushrooms.
The buttons taste bland, but when you get into chanterelles that taste and smell of butter and honey, oyster mushrooms with briny undertones, and morels that sing of smoke and springtime, you're talking serious flavor diversity. My favorites are honeycap mushrooms, which smell and taste like honey with chocolate undertones. I could literally sit for days with my nose deep in a basket of honeycaps.
The sweet taste of honeycaps comes at a price: $15 a box, to be exact. With few exceptions, I steer clear, making a b-line for the criminis, shiitakes, and maybe some chanterelles. Criminis are pretty plain, shiitakes slightly less so; when I serve these to company, I'm looking to maximize their flavor and increase their shelf life in case there are leftovers. For this, I turn to mushroom conserva. It comes from one of my new favorite cookbooks, Thomas Keller's Ad Hoc at Home.
A recipe the likes of which only Thomas Keller could have invented, mushroom conserva is to mushrooms what jam is to fresh raspberries. Keller has you essentially poach the mushrooms in oil perfumed with herbs and spices, splash the mixture with vinegar, and then jar them. Submerged in the oil, the mushrooms keep for upto a month — much longer than they would otherwise. While the recipe calls for wild mushrooms galore, I've found that peppering a mostly crimini/shiitake mix with smaller portions of wild mushrooms works quite nicely, and is easier on the wallet. As if these weren't enough to motivate, this recipe — just like the green beans I wrote about earlier this week — is actually meant to be made in advance. Just trying to make your life easier, folks. Thank me later.
Mushroom Conserva
from Thomas Keller's Ad Hoc at Home

note: if you don't have piment d'espelette, feel free to use a different paprika. I used smoked paprika one time I made this, and thought it was lovely.

2 pounds assorted wild mushrooms such as small shiitakes, morels, chanterelles, small porcini, hen-of-the-woods, trumpet and oyster; if you can't get these or enough of them, feel free to substitute some criminis,
2 cups extra virgin olive oil
2 bay leaves
4 sprigs thyme
1 sprig rosemary (6 inches)
1 teaspoon piment d'espelette (if you don't have this, feel free to use a different paprika)
3 tablespoons sherry wine vinegar
kosher salt
fresh cracked black pepper

Just before cooking, rinse the mushrooms as necessary to remove any dirt. Remove any stems that are tough, such as the stems of shiitake mushrooms and discard or set aside for another use, such as a vegetable stock. Trim the end of other stems as well as any bruised areas.

Cut the mushrooms into pieces. The size and shape will vary with the variety of the mushroom. Small mushrooms can be left whole, larger mushrooms can be cut into chunks or into slices. Some mushrooms with meaty stems such as porcini or trumpet mushrooms, can be cut lengthwise in half.

Use the tip of a paring knife to score the inside of the stem in a crosshatch pattern. This will enable the marinade to penetrate the stem. The pieces of mushroom will shrink as they cook, but the finished pieces should not be larger than one bite. You should have about 1.5 pounds (10 cups) of trimmed mushrooms.

Place the olive oil, bay leaves, thyme sprigs, rosemary and Piment d'Espelette in a large, wide saucepan over medium to medium high heat.

Place a thermometer in the pot and heat until the oil reaches 170 degrees F, stirring the mushrooms in the oil from time to time. It may be necessary to tilt the pot and pool the oil to get a correct reading on the thermometer. Adjust the heat as necessary, to maintain this temperature for 5 minutes.

Add the mushrooms to the pot, and gently turn the mushrooms in the oil.

When the oil reaches 170 degrees F again, maintain the temperature for 5 minutes, gently turning the mushrooms from time to time. The mushrooms will not initially be submerged in the oil, but will wilt as they steep.

After 5 minutes, turn off the heat and stir in the vinegar and salt and pepper to taste. Let the mushrooms steep in the oil for 45 minutes. Place the mushrooms, oil and herbs in a covered storage container. Kept covered in oil the mushrooms will keep for up to 1 month in the refrigerator.

Reheat conserva before serving.