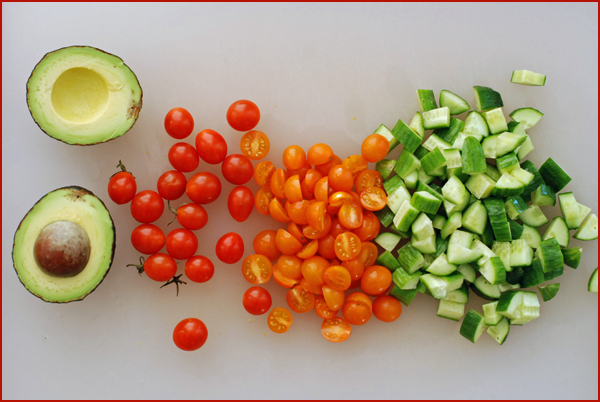 If you ask D about my eating habits, she'll not hesitate a moment before telling you that they're strange. Among what she deems my more odd tendencies is my affinity for salad in the morning. She – and most everyone else – like starting the day with oatmeal, yogurt, pancakes. (I do, too. Not sure how else to explain this, this, this, and, you know, this whole category.) But I'm also quite content to make breakfast from chopped vegetables, some avocado, a squeeze of lemon, and a hunk of feta cheese.
That's what I did while living in Israel. If I wasn't running out the door with a bottle of drinkable goat's milk yogurt in hand, I was frequently making this salad in the mornings. Frankly, I was making a version of this salad nearly three times a day.
Classic Israeli salad doesn't have feta or avocado. It's just tomatoes, cucumber, parsley, lemon, and salt. That's good, too – but this is better. It's more luxurious, and more filling. Serve it with pita and some hummus or labneh, and you've got a complete meal. For years, this has been my Israeli salad. I'll happily stuff it into a falafel sandwich, just like real Israeli salad, but I'll also pile it on wheat toast, taking things in a slightly different (but still delicious) direction.
When my mom and I are eating together, we often make something like this. The feta she buys is softer than mine, and it has this way of melting into the salad that I really like. If you think you'll enjoy that, buy a soft feta. Sheep's milk feta is especially nice, and the one I get at my local Whole Foods is pretty soft. Otherwise, buy a hard feta and cube it for the salad.
I hope you get a chance to make this while tomatoes are still plentiful and cucumbers are nice and crunchy. Before you know it, we'll be talking about apple pie. Here.Comes.Fall.
My Israeli Salad
Serves 2 as a side salad

2 cups cherry tomatoes (I like to use more than one color)
1 avocado, halved, pitted, and cut into chunks
3 Persian or other small cucumbers, quartered lengthwise and cut into chunks
5 oz. feta cheese, cubed or crumbled
juice and zest 1 lemon
3 tablespoons olive oil
1/4 teaspoon salt
freshly cracked pepper

In a medium bowl, combine vegetables and toss to combine. Add cheese, and give the mixture a few turns, avoiding breaking up the cubed feta too much. (This is less of an issue if you're using crumbled feta.)

In a small bowl, combine lemon juice and zest, olive oil, salt, and several grinds of pepper. Pour over salad, toss gently, and taste. Add more salt, pepper, or lemon as needed. Serve.