I made this recipe on an absolute whim, because my in-laws were coming over for dinner and we had no dessert in the house. My father-in-law, whom I am on record as saying I adore, has very simple tastes in food. He wouldn't have enjoyed the labneh tart I had my eye on. So instead, I figured I'd make straightforward, no-frills brownies. I got home, dropped my shopping bags, pulled up the blog on my iphone, and started at my standard recipe, taking as many shortcuts as possible. One bowl, a fork to mix the batter, a sprayed pan. To make sure the brownies weren't completely flavorless, I added a teaspoon of ground coffee. Not espresso powder; just regular ground coffee.
I anticipated a passable version of a loved dessert. Instead — and maybe none of you will find this surprising — I made a batch of hassle-free brownies that were actually delicious. As in, my stepmother-in-law asked me for the recipe. I hadn't even written it down, because it seemed like nothing. But I sent her the basic instructions for what I'd done, and then, a couple weeks later, I followed the instructions myself.
Surprisingly, the grounds melt into the brownies. You don't get grit when you bite in – just a slight undercurrent of coffee that doesn't pronounce itself, but instead intensifies the chocolate flavor.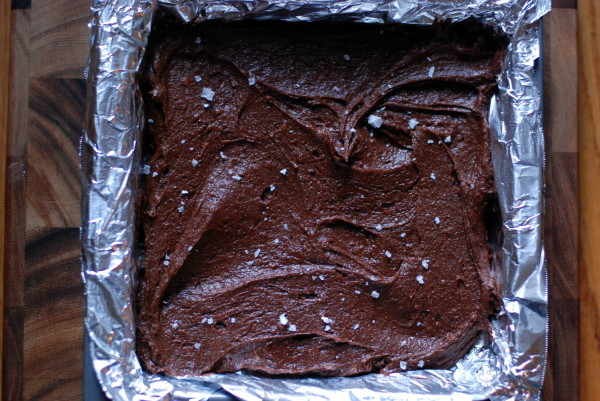 Many occasions call for a quick dessert. Those same occasions call for as few dirty dishes as possible. With that in mind, here are one-bowl, nine-minute brownies. You can make the batter while your oven preheats. Wash the bowl while the brownies bake. I got out the chocolate at 6:05; by 6:14, the brownies were in the oven. By 6:25, the house smelled like chocolate. Victory on multiple fronts.
Nine-Minute Mocha Brownies

1/2 cup butter or canola oil
4 oz. chocolate chips, plus additional 1 oz. for sprinkling (optional)
1 cup sugar
2 eggs
1/4 cup dutch-process cocoa powder
1 teaspoon vanilla
1 teaspoon ground coffee
2/3 cup flour
1/2 teaspoon flaky salt, plus more for sprinkling

Preheat the oven to 350 degrees F and set a rack in the middle of the oven.

In a double boiler or a large, microwave-safe bowl, melt butter/oil and chocolate chips together, stirring occasionally, until completely melted. This takes less than 2 minutes in a microwave, and about 5 minutes in a double boiler.

Remove bowl from the heat and stir mixture until completely smooth. Add sugar; whisk to combine. By now, the mixture should be warm but not hot. Add eggs; whisk thoroughly to combine.

Add cocoa, vanilla, and coffee. Stir to fully combine — slowly at first, so cocoa doesn't fly out of the bowl. Add flour and salt. Stir just until fully combined. If using additional chips, add to batter and stir just to distribute.

Line an 8-inch pan with parchment paper or aluminum foil. Grease or spray with non-stick spray. Pour batter into prepared pan, and use your fork or (gasp! another utensil!) a spatula to smooth the top. Sprinkle with a bit of flaky salt.

Bake for 25 minutes for fudgier brownies, 30 minutes for firmer brownies, or 27 minutes for something in between. Remove from the oven, and let cool in the pan for at least 15 minutes, preferably 30, before carefully removing the brownies onto a workspace and slicing.