According to my big stack o' food magazines, Thankgiving is the day for pie, and the December holidays are prime-time for cookies. Since there's no formal season for cakes, we'll eat them all year and call it even. Fair?
Early spring brunches bring rhubarb coffee cake; summer calls for double-decker strawberry cake; and I've got a slew of French-style no-biggie cakes, peasant and pound, to finish off just about any meal.
But when winter can't seem to let go, I want something toasty and comforting, something simple and relatively unadorned. The days are so short that I can't really motivate to make something sky-high and celebratory – plus, after dinners of thick lentil soup and rib-sticking stews, I want a desert to finish things off without overdoing it.

When I first came upon this walnut cake, it was quite the opposite of "not overdoing it:" a towering thing, with piles (I'm serious, piles) of jam, and a big, fluffy cloud of tangy whipped cream gilding the lily. The thing was tasty, but it was so done up, it had almost nothing to do with the cake at the center of it all.
In my world, the solution to all not-quite perfect recipes is to add chocolate. And so, armed with my best Valrhona, I baked the original cake, slit it in half, painted a thin layer of jam in the middle, smacked the two halves backed together, and cloaked them in chocolate ganache.
In my world, this sounds like the cake of dreams — only it wasn't. It was dense, cluttered, and, quite truthfully, unpleasant to eat. Womp.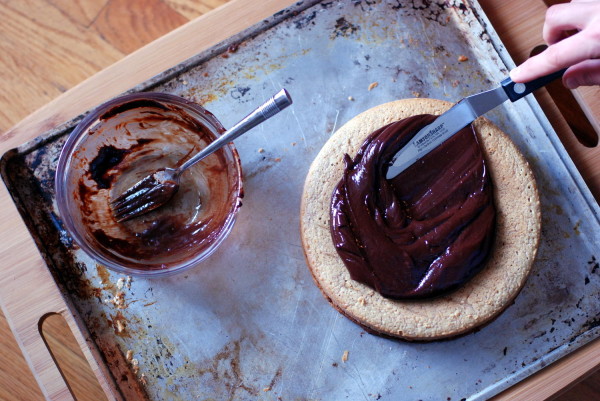 And so it was that I attempted time #3. I ditched the fancy springform  and pulled out my most trustworthy, least fussy square baking pan. I ditched the Valrhona (don't tell on me) and I even ditched the jam. Back to basics: It felt a bit like wiping off the makeup from a stage performer.
My instincts were right: the cake was drop-dead gorgeous au natural. Toasty and warm, nutty but also plenty buttery, absolutely perfect with a cup of tea. That's how we ate it, morning and afternoon, until it was all gone. Did I mention it comes together in one bowl (a food processor bowl, but still) in no time at all? Just as it should be.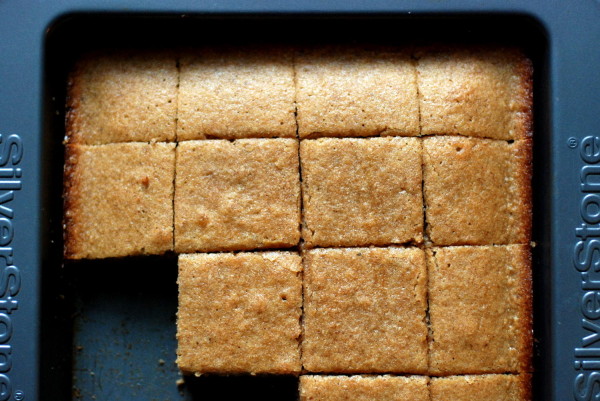 Where I live, the snow is still coming down. That means there'll be another pan full of this cake, and lots of hot water for tea. It's the little things that make me feel lucky these days. This is one of them.
No-Frills Toasted Walnut Cake
Pared down and adapted from an old Gourmet recipe

Notes: You can make this cake in either a round pan or a square one. Make sure it's an 8-inch pan, though: a 9-inch pan will give you a thin cake that's a bit less satisfying to eat.

If you must fuss, mix 1/2 cup of whipped cream with 2 tablespoons sour cream and a tablespoon of sugar. The tangy whipped cream, in small doses, compliments the cake without overpowering it.

1 1/4 cups walnuts (4 1/2 oz)
2/3 cup sugar
1 stick unsalted butter, cut into pieces
4 large eggs
1 teaspoon pure vanilla extract
1/2 cup all-purpose flour
1/2 teaspoon baking powder
1/2 teaspoon salt

Preheat oven to 350° with a rack in the middle of the oven. Butter and flour an 8-inch square or round cake pan.

Spread walnuts in a single layer on an ungreased, unlined sheet pan. Toast for 10-15 minutes, until nuts are tinted slightly and smell very fragrant. Watch carefully: you want to take the nuts into golden-brown territory but if you burn them, you'll need to start over.

Pulse walnuts and sugar in a food processor until finely chopped. Add butter and process until combined, then add eggs and vanilla and process until combined. Add flour, baking powder, and salt and pulse just until incorporated. Spread batter in cake pan.

Bake until cake is just firm to the touch and a wooden pick inserted into center comes out clean, 30 to 35 minutes. Cool 15 minutes in pan, then turn out onto a rack and cool completely.

Cake keeps, well-wrapped, at room temperature for up to 4 days.