Sometime last year, D and I were invited to take part in a fun tradition that friends of ours had started, wherein they host dinner parties composed entirely of dishes from Yotam Ottolenghi, he of Plenty and Jerusalem and an earlier eponymous book that gets much less attention. (Also of a fantastic column in The Guardian, where this soup originally appeared.)
At the first of these dinners we attended, the table was full of exotic dishes: fava bean kuku loaded with barberries, grape leaf and yogurt pie, and mutabbaq. Everything went together, because everything came from the same brilliant mind. We left stuffed.
For the second dinner, we all went back to the well, digging for recipes that had languished on our to-do lists for too long. Josh made a saffron ravioli served with pink peppercorns. Bryce made the spinach-feta fritters that were a total pain but really delicious. And I finally flipped back to the page of Jerusalem with three soups on it, two of which I'd already made. This time, I made the third: a very green soup made of watercress.
What do you make of watercress soup? It sounded like a thin, brothy bowl, and I was worried that without a poultry broth, it would come out sort of bland.
Fortunately, I was wrong. Watercress is so flavorful! To think I've been missing out on its spicy freshness all this time. The sweet spinach provides a nice counterbalance, but what really makes the soup is its garnish — if you can call it that: a big pile of carrots and celery, roasted in plenty of spices until crispy and fragrant. Plus Greek yogurt, of course. 
Let's get the special-ingredient pep-talk out of the way. You need some ras el hanout, a Moroccan spice blend with as many varieties as people in Morocco. That said, I've seen jarred versions at two area grocery stores, so hopefully you're in luck. The other thing you need is rose water. On one hand, it's crazy to buy a bottle of rose water when you only need a tablespoon. On the other hand, my bottle cost like $5, I've had it for years, and it never seems to go bad. So there you go. If you don't want to buy rose water, you can still make the  soup. But the rose water does lend fragrance and overall intrigue, so if you're even considering getting it, go for it.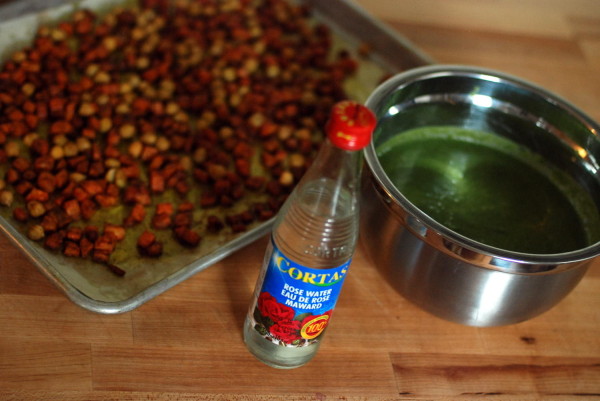 As good as this soup is the day it's made, it improves with time, as the flavors come together and smooth out a bit. There's no problem making the garnish in advance, either. Just give them a quick reheat in a 350-degree oven (10 minutes?) before serving and you'll be all set.
Watercress Soup with Chickpeas and Ras El Hanout
Adapted from Yotam Ottolenghi
Serves 4

1 large carrot, peeled and cut into 3/4-inch dice
3 tablespoons olive oil
3 teaspoons ras el hanout
1/2 tsp ground cinnamon
1 teaspoon kosher salt
1 8-oz. can chickpeas
1 medium onion, thinly sliced
2-inch knob fresh ginger, peeled (use the tip of a spoon!) and grated or finely chopped
2 1/2 cups vegetable stock (or sub water)
8 oz. fresh watercress
4 oz. spinach leaves, washed
2 teaspoons caster sugar
1 teaspoon rose water
1 cup Greek yogurt, to serve

Heat the oven to 400°. Mix the carrot with a tablespoon of the oil, the ras el hanout, cinnamon and some salt, and spread flat in a roasting tin lined with baking parchment. Place in the oven, roast for 15 minutes, then add half the chickpeas, stir well and and cook for another 10 minutes, until the carrot is soft but still has some bite.

Meanwhile, in a large saucepan over medium heat, sauté the onion and ginger in the remaining oil for about 10 minutes, until soft and golden. Add the remaining chickpeas, stock, watercress, spinach, sugar and some salt, stir and bring to a boil. Cook for a minute or two, until the leaves wilt, then blitz in a food processor until smooth. Stir in the rose water, taste and add salt or more rose water as required.

To serve, divide the soup into four bowls and top with the hot carrot and chickpea mix, and about two teaspoons of yoghurt per portion.

Yotam Ottolenghi is chef/patron of Ottolenghi in London.