I rarely title my posts with anything but the name of the recipe I'm posting — but this particular recipe is fabulous, and if I told you what it was called, I might scare you. Let's just say it's not your ordinary gaspacho. First off, it's white. As you might have guessed, cucumbers are definitely at play here, and they lend a wonderful fruity freshness that's key in offsetting…the other ingredients. Also in the mix are almonds that have been blanched, toasted, and ground, as well as rustic bread that's been soaked in water and blended to thicken the soup. And that other ingredient, you ask? Buttermilk. Don't freak out.


Here's the thing. The soup is called "Cucumber Buttermilk Gazpacho," but it should be called "Cucumber Almond Gazpacho." I get that buttermilk is a key player in this soup — and I recommend making it with the real thing, and not milk mixed with a tsp of lemon juice — but it's a flavor in the background, one that pulls everything else together, not worthy of the title. Especially since its presence scares people.
Let's just review our dairy trivia for a minute: according to Wikipedia, "fermented dairy product produced from cow's milk with a characteristically sour taste. The product is made in one of two ways. Originally, buttermilk was the liquid left over from churning butter from cream. Today, this is called traditional buttermilk. Buttermilk also refers to cultured buttermilk, a product where lactic acid bacteria have been added to milk." Ok, so it's fermented. Lest that scare you, so is wine…and who doesn't love a nice glass of wine? It's also sour. But so are lemons and limes and oranges, oh my! so don't hate. And if you've ever swallowed your nerves and tried buttermilk — in pancakes, or ice cream — you know that it's got a quite distinctive, quite lovely flavor. So there.
Lest you be concerned that this soup is too rich, I can assure you, it's not. And I'm sensitive to creaminess. The generous garnishes of juicy tomato, sharp scallion, herby parsley and toasted almonds make this a fun soup to eat while offsetting the buttermilk perfectly.
Here's what I can promise: everyone cringes when I say the name of this soup. But guess what else? No one has not tried it. And? No one has not liked it. So maybe you'll try it. And maybe you'll like it. Just maybe.
**I must give props to Jana. Not only did she introduce me to this recipe (by way of making it for a recent lunch party), but she opened my eyes to the oft-doubted-but-kind-of-wonderful marthastewart.com. So thanks to Jana!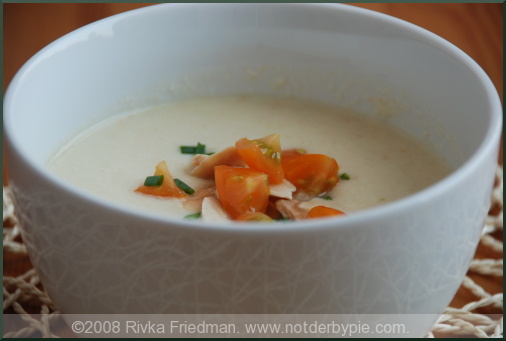 Cucumber Buttermilk Gazpacho
from MarthaStewart.com

Makes 6 cups

* 3/4 cup whole blanched almonds
* 1/2 cup sliced blanched almonds, for serving
* 4 ounces rustic white bread, crust removed, bread cut into chunks
* 2 1/2 pounds Kirby or regular cucumbers, peeled, seeded, and coarsely chopped (about 4 3/4 cups), plus 1 unpeeled cucumber, diced, for serving (about 9 cucumbers total)
* 2 small garlic cloves
* 1/2 cup extra-virgin olive oil, plus more for drizzling
* 3 tablespoons fresh lemon juice
* 1 cup buttermilk
* 2 teaspoons coarse salt
* Freshly ground pepper, to taste
* 3/4 cup cold water, plus more if needed
* 1 large ripe beefsteak tomato, diced, for serving
* 4 scallions, sliced, for serving
* 1/2 bunch fresh flat-leaf parsley, for serving (I used chives instead of scallion and parsley, because that's what I had lying around…)

Directions

1. Preheat oven to 350 degrees. Spread whole almonds in a single layer on a rimmed baking sheet, and spread sliced almonds in a single layer on another rimmed baking sheet. Toast in oven until brown and fragrant, 7 to 10 minutes (sliced ones will brown more quickly). Let cool.
2. Place bread in a bowl, and cover with cold water. Let stand 10 minutes. Squeeze out liquid, and discard.
3. Puree half of each of the whole almonds, bread, peeled cucumbers, and garlic in a blender. Add half of each of the oil and lemon juice, and puree. Transfer to a large bowl. Repeat.
4. Stir in buttermilk, salt, and pepper. Add water; if a thinner consistency is desired, add more water. Pass through a medium sieve. Refrigerate at least 1 hour (or overnight). If desired, thin with water before serving. Serve cold. Drizzle with oil, and serve with diced cucumber, tomato, scallions, parsley, and sliced almonds on the side.