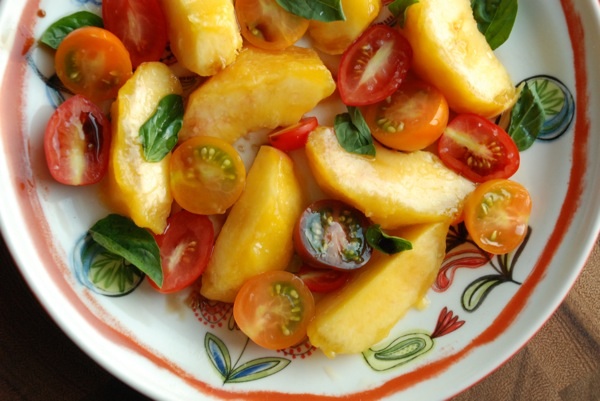 I get as excited as the next girl about making zucchini gratin, corn soup, peach cobbler, etc. Never was there a better time for produce than smack in the middle of summer. The downside, of course, is that some days, I'm too pooped to patchke. I'd rather just stand over the sink, peach in hand, and let the juice dribble down my chin as I indulge in an effortless, delicious, afternoon snack.
This salad is for those days. It's for the other days, too; but when the heat has gotten the best of you, you'll be thankful for something this good, this seasonal, that requires so little actual movement on your part (the better to sit near the fan and let the sweat evaporate. You know what I'm talking about.)
When the peaches and tomatoes are as good as they are right now (this very moment! Get thee to the market, pronto!), they need nothing. They do benefit, however, from a drizzle of fine olive oil, a sprinkling of sea salt, and a couple drops of reduced balsamic vinegar or saba (my favorite ingredient ever: reduced grape must. You can get it at Italian grocery stores and on Amazon). That's all, folks.
Peach Tomato Salad
serves 2

2 juicy peaches, peeled (probably need to use a paring knife if they're as juicy as they should be)
1 pint good cherry or grape tomatoes
a few tiny basil or mint leaves
3 tablespoons fine olive oil, preferably a fruity one
flaky sea salt
2 teaspoons reduced balsamic vinegar or saba; pomegranate syrup would also be good

Peel peaches and slice each peach into 6 wedges. Halve tomatoes. Arrange on platter, and top with mint or basil leaves.

Drizzle oil over salad, and sprinkle lightly with flaky salt. Drizzle the vinegar or saba with a very light hand.

Either serve immediately (fine), or allow salad to sit for 10 minutes. Tomatoes and peaches will exude their liquid and seem, impossibly, juicier. Eat up.