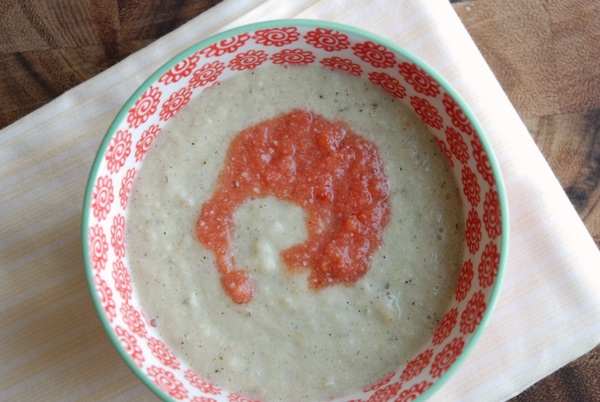 A couple weeks ago, D and I went to my parents' house to celebrate my mom's birthday. I've talked about my mom a bunch on this site, and I know I've said before that she's responsible for any and all of my good cooking instincts (and none of the bad ones). She's an experimenter in the kitchen, always tinkering with recipes until they're just perfect. And she's got an uncanny ability to pick out ingredients by smell and taste. Just last night, over dinner at the wonderful Rasika (a belated birthday present from us kids), we tasted the baingan bartha (our favorite type of curry: slow-roasted eggplant with tomato and plenty of smoke), and when I asked if she thought she could replicate it at home, she said maybe not, because her garam masala has less nutmeg than Rasika's. Understand, for a moment, that garam masala is a blend of several spices, and that it's only one ingredient of the many in baingan bartha – and yet, she was able to pull nutmeg out of the stack. I don't know how she does it.
But I digress. You see, never have my mother's tinkering and testing talents been put to better use than in the roasted corn and tomatillo soup she made for her birthday dinner. It was the first course of way too many, but I couldn't stop myself: I had three bowls of soup. It was deeply smokey but also sweet from summer corn, rounded out with pungent ginger and bright lime juice. She served it with a tomato swirl-in that is both entirely optional and entirely delicious. It was the best bowl of soup I've had in a long, long time.
At my begging request, my mother worked up a recipe that pretty much mirrored what she had done. I simplified it a bit, and I also added variations for those of us not using our ovens right now. Admittedly, mine came out noticeably greyer than hers did – perhaps I didn't do as good a job as getting the burnt, blistered skin off those tomatillos – but it was no less tasty. I've provided both sets of instructions below.
Whichever way you choose, do make this soup. It captures the heat, the freshness, the rustic chunkiness, and the juicy sweetness of summer vegetables. It's really special.
Roasted Corn and Tomatillo Soup
adapted from my mother
As I mentioned above, my mother's A/C is great, so she uses her oven in summertime. Mine, not so much – I'm loath to turn the oven on. Roasting corn in the husks does give it this very particular woodsiness, so if you can roast the ears that way, by all means, do. I removed the husks, and roasted my corn over an open flame until they were speckled with golden brown kernels. I also used a stove-proof rack to roast the peppers, tomatillos and garlic over the stove, until their skins had browned all over.
5 ears of corn, in the husks (if roasting in the oven; otherwise, remove husks)
3-4 small young cucumbers, peeled
5 or 6 tomatillos, husks removed and skins rinsed
1-2 serrano peppers, to taste
1 yellow bell pepper
3 cloves garlic, unpeeled
1 large shallot
1 inch piece of fresh ginger, peeled and grated
6-8 basil leaves, torn or chopped
2 tablespoons chopped fresh parsley
2 tablespoons seasoned rice wine vinegar (Trader Joe's brand is our favorite)
juice of half a lime
1 cup water
1 cup Greek yogurt
Salt to taste
Up to 1 tablespoon sugar, or to taste
2-3 tablespoons olive oil, if needed
Turn on the oven to 350. Clean off dirt adhering to the cornhusks. Place corn directly on oven
rack in the middle of the oven and roast for 30 minutes. Let the corn cool before removing the
husks.
(Alternatively, remove husks from corn and roast over an open flame on the stove, until kernels are golden brown in spots.)
While corn is roasting, grate the cucumbers into a sieve or strainer placed over a bowl. Lightly
salt the cucumbers and set aside.
Line a small baking sheet with foil. Place the sweet pepper, serrano peppers, tomatillo, shallot, and garlic (unpeeled) onto the baking sheet. Broil the tomatillos and peppers until the skins blacken and/or blister. Watch the hot peppers because they might take less time than the larger sweet pepper. Broil garlic and shallot until skins are browned all over. When peppers are done, place them in a covered dish or a paper bag so they will steam as they cool. Once cooled, remove the skins from all the vegetables, and seed the peppers. Transfer the vegetables into the bowl of a food processor or blender.
After removing corn husks (if necessary), grate the ears of corn into the processor bowl. Squeeze the liquid out of the grated cucumbers and place them in the processor bowl as well. Add ginger, basil, and parsley to processor bowl. Pulse processor a few times to chop vegetables.
Add vinegar, lime juice, and water, and process until smooth. Add yogurt and pulse to combine. Taste and add salt, sugar, and more acid as necessary. If you want soup to be even smoother, add a couple tablespoons of olive oil and blend until smooth. Chill thoroughly.
For the tomato pesto (if using):
Half a slice of stale bread
2 medium tomatoes
1 clove garlic
Pinch of sugar
1/2 teaspoon cumin
Pinch of salt, or to taste
Splash of rice wine vinegar (seasoned or plain is fine)
Fresh ground black pepper
2 tablespoons olive oil
Soak the bread in water until it is very soft. Slightly squeeze out the
water. Place it in bowl of a food processor.
Quarter the tomatoes or chop them in big chunks. Place in processor. Add sugar, salt, vinegar, cumin, and pepper. Process everything and while the processor is running, drop the garlic cloves through the feed tube. Drizzle in the olive oil while processor is on; blend until smooth. Place in refrigerator to chill.
To serve, spoon corn soup into small bowls; top with a couple spoonfuls of the tomato pesto in the center.