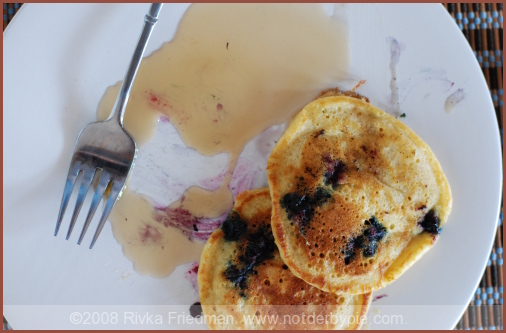 The NDP kitchen is swimming in blueberries. They were a mere $1.25 a pint at today's market, so I couldn't resist buying just a few 5. I ate half a pint on the way back from the market, because they're so sweet! And I'm a grown up so I can! So there! I'll freeze 2 of the pints, and the other 2 (er, 1 1/2) will work their way into salads and crisps and maybe even some hand pies. After trying Sarah's bourbon peach and sour cherry hand pies at our office bakeoff, I'm dying to try my hand at making them. I'm pretty sure her recipe was from Deb at Smitten Kitchen, and no surprise there — the crust was perfectly flaky, and the sprinkling of rock-sugar on top of the not-really-sweet crust made all the difference. And those cherries! I'm still mourning the end of sour cherry season, so you'll have to bear with my whining. If anyone sees sour cherries this week, pullease leave a tip on the blog about where one can find them.
But I digress. Because here I go, planning where all my blueberries will find themselves, when in truth I've already put 1/4 pint toward a very noble cause: perfect blueberry hotcakes. I don't make pancakes often, so when I do, I tend toward the luxurious end of the pancake spectrum. My go-to recipe calls for 6 Tbsp. of melted butter that are then incorporated into buttermilk and egg yolks for a tangy, rich batter. Whipped egg whites are folded in just before cooking to lift the batter and make the hotcakes uber-light, and fresh blueberries lend color and zing that contrast perfectly with the sweet, sloshy puddles of maple syrup. These hotcakes were the antidote to my very busy week. If Friday night partying isn't your way to ring in another weekend, let these be the sign that Saturday is finally here.
Perfect Blueberry Buttermilk Hotcakes
adapted from Beltane Ranch, via Food and Wine

serves 4-6

Ingredients
1 1/2 cups unbleached flour — I use half whole wheat
2 tsp. baking soda
1/2 tsp. salt
2 cups buttermilk
6 Tbsp. unsalted butter, melted and cooled
2 large eggs, separated and at room temperature
1/4 pint fresh blueberries
maple syrup

In a medium bowl, mix flour, baking soda and salt. Set aside.

In a large bowl, whisk together buttermilk and egg yolks. Add butter and stir until well incorporated. Add the dry ingredients to the wet ingredients and stir just until combined. Add blueberries and fold into batter to incorporate.

In the bowl of a stand mixer fitted with the whisk attachment or in a medium bowl using a hand mixer, whip egg whites until stiff peaks form. Using a rubber spatula, fold in egg whites gently, and stir just until combined.

Heat a lightly buttered castiron or heavy stainless steel skillet over moderately low heat. Using a ladle or a 1/4-cup measure, put two-three pancakes in the pan.

Let hotcakes cook for about two minutes, or until top begins to set around the edges.
Flip and cook 1 minute longer, then transfer to a 280-degree oven to keep warm while you cook the rest of these beauties.

Serve with good maple syrup and a big appetite.