The single best thing (the single good thing, actually) about pulling late nights at work is ordering Indian on the firm's tab. The office coordinates with one of those online delivery systems where you can order dinner and have the bill automatically charged to the company, but frankly, the pickins are slim and they charge you a delivery fee which really cuts into your allotted budget. I almost never order off the site, opting instead to be my own middle man. A bunch of us go in on a big order from Heritage India up the street, and I usually volunteer to take care of ordering and submitting receipts for reimbursement. My colleagues seem to think it's because I embody the spirit of generosity; the truth? I like to ask for lots of extra tamarind chutney.
You'll rarely find my fridge without tamarind concentrate. Tamarind is slightly sweet, but it's the zippy tang that elevates the flavor of meats, pad thai, and even tomato sauce. It's used in many Indian and Thai dishes, and you'll often get some as a dipping sauce for samosa. Perhaps lesser known, tamarind is a key ingredient in Syrian cuisine. Ever since snagging an invite to a dinner party at a Syrian friend's place while I was in college, I've been fascinated by Syrian food. For starters, there's so damn much of it! I ate until I was stuffed at that dinner, and just as the food coma set in, out came the main course. But beyond the copious quantities, I just can't get enough of the interplay between sour and sweet that's fundamental to Syrian cooking. We're talking tamarind-laced tomato sauce, or meatballs cooked in a sweet-tart cherry sauce. It's some pretty good stuff.
I bought my first jar of tamarind concentrate at an Indian grocer near my old office, and it lasted me for nearly a year. It was good, but its texture was similar to pomegranate syrup, and its flavor was somewhat harsher than the tamarind chutney I'm used to eating with my samosas. I thought to get more, but since I no longer work out in the boonies and also don't have a car, Indian groceries aren't exactly accessible. So this fearless blogger decided to make her own.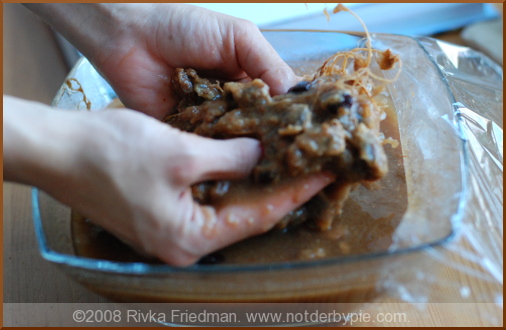 I didn't go it alone, though: I took on tamarind puree armed with Aromas of Aleppo, one of my new favorite cookbooks to read and ogle over. It's a tall, heavy book, written by a woman named Poopa Dweck (Poopa! What a name!), and it's all about the food of the Syrian Jews. (The book really is stunning, and would make an amazing gift – Julia, who lent it to me, got it for her wedding.) The emphasis is on meat, and when I say emphasis, I mean there is nary a recipe for vegetables on their own; every last one is stuffed with the classic Syrian meat-and-rice filling. Not that I'm complaining. In addition to meat, every single recipe calls for tamarind puree. I've been planning to make something from the cookbook for a while, but until last week, I hadn't gotten past the ogling stage. They just all look very complicated. So imagine my surprise, when I finally bit the bullet and made my own tamarind puree, that the process was really much more painless than I'd anticipated.
Tamarind is relatively hard when it's dry, the pulp having gathered and solidified around those smooth, center seeds — but let it soak in water overnight, and it becomes as soft as applesauce. At that point, you can easily separate out the seeds and fibrous membranes from the pulp. After a good strain or two through some cheesecloth, all you need to do is boil the puree down and add some sugar, and that's it. Plus, once the puree is made, it'll keep in a jar at room temperature for upto a year. If it lasts that long.
Tamarind Puree
Adapted from Aromas of Aleppo
3 pounds tamarind or tamarind pulp (sold in a hard block)
1 1/2 pounds sugar
1 1/2 tablespoons freshly-squeezed lemon juice
2 Tbsp. citric acid
If using whole tamarind, peel the hard outer shell away. Submerge tamarind (or tamarind pulp block) in about 6 cups of water, and let sit about 8 hours, until pulp has the texture of applesauce and is easily separated from seeds and membranes.
Line a colander with cheesecloth, and set over a large mixing bowl. Pour tamarind mixture into colander, and press firmly against the sides of the colander to extract the tamarind liquid and leave behind the seeds and membranes, as well as any pieces of shell.
Transfer the strained pulp from the colander into a clean mixing bowl, and submerge in more fresh water (about 3 cups). Work to pull it apart again, releasing any remaining pulp, then strain again and transfer the extracted liquid into the bowl that holds the liquid from the first straining.
Pour the reserved liquid through the cheese cloth one last time, wringing out cheesecloth to extract as much liquid as possible.
Pour the tamarind liquid into a large saucepan and bring to a boil over high heat. Reduce heat to low and simmer liquid until reduced by half. Then add sugar, lemon juice, and sour salt to the tamarind liquid.
Increase heat to medium and boil slowly until the mixture develops a silky, almost shiny consistency. Let the mixture cool some, then transfer to a large glass jar. Puree will keep several months — refrigerate after opening.