There were fresh blueberries on the counter, sour cream – which I NEVER have – in the fridge, a brand new sack of flour in the flour jar, and just enough time after the gym and the market to whip up a batch of the most perfect blueberry muffins I've ever made.
Sometimes, the stars align.
When we went berry picking a few weeks ago, I came home loaded up with blueberries. Compared to sour cherries, which had me on a ladder in a tree, and strawberries, which got my knees grubby from all that squatting, blueberries were a cinch to pick. They were so sweet right off the tree, though, that it felt like a sin to do anything but eat them raw. I ate my way through 2 pounds in one week; my breakfast yogurt has never been better.
But some time passed, and finally, I was ready to bake.
These muffins were just the right place to start. They've got craggy, bumpy tops, but their bottoms are etherial and fluffy, highlighting the blueberries without overpowering them.
It's no surprise these were so perfect: they come from The New Best Recipe, which is America's Test Kitchen's most recent catalogue of their tip-top formulas for everything from tomato soup to apple pie. Lately, TNBR has been pushed and shoved to the back of my cookbook shelf, bested by Plenty and Good to the Grain and Super Natural Every Day. It's hard to get excited about such a classic collection of recipes when I can make Heidi's yogurt biscuits and Yotam's garlic tart. But when you need to make straight-up blueberry muffins, there really is no better place to turn.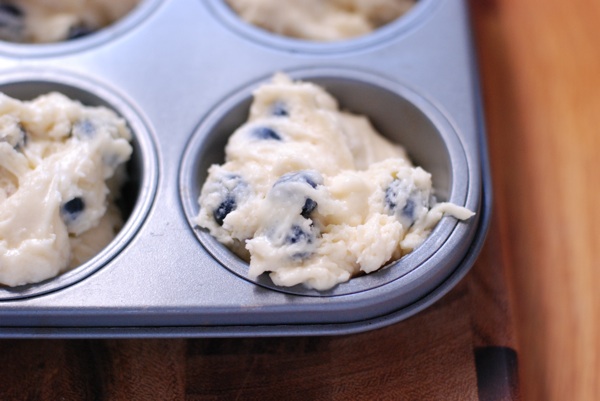 A word of warning about muffins so light and fluffy: it's easy — dangerously easy — to eat many of them. Don't say I didn't warn you.
Perfect Blueberry Muffins
Adapted, just barely, from The New Best Recipe

A note about greasing the pan: if you find yourself in the (in my case, likely) situation of not having muffin liners, grease that pan like it's your job. I was stingy with the butter, and as you can see above, I had to wrangle my muffins out of the tin as a result. Generosity of butter/cooking spray will be rewarded.

10 ounces (2 cups) unbleached flour
1 tablespoon baking powder
1/2 teaspoon salt
1 egg
7 ounces (1 cup) sugar
4 tablespoons unsalted butter, melted and cooled
10 ounces sour cream (or substitute yogurt)
1 1/2 cups fresh or frozen blueberries

Preheat oven to 350. Line muffin tin with paper liners or grease with either butter or nonstick spray.

Whisk flour, baking powder, and salt in a medium bowl. Whisk the egg in a second medium bowl until uniformly pale colored, about 20 seconds. Add the sugar and whisk vigorously until thick and homogeneous, about 30 seconds; add the melted butter in 2 or 3 additions, whisking to combine after each addition. Add the sour cream in 2 additions, whisking just to combine.

Add the berries to the dry ingredients and gently toss just to combine. Add the sour cream mixture and fold with a rubber spatula until the batter comes together and the berries are evenly distributed, 25 to 30 seconds.

Divide batter among greased/lined muffin cups. Bake until light golden brown and a toothpick inserted into the center of a muffin comes out clean, 25 to 30 minutes, rotating the pan front to back halfway through the baking time. Invert onto a wire rack and cool 5 minutes.