The spring season is upon us, and we've got the rainfall to prove it! I wanted to go with something clean and fresh-looking for the spring blog design, with bright colors and lots of white space. So clear that cache and check out NDP's new layout — I hope you like it!
We went to synagogue every week when I was a kid. After services, the congregation would flood into the social hall for "kiddush" — meaning the prayer over the wine, but also the term used to describe the nibble-and-schmoozefest that occurs after prayers. The "kiddush ladies" would have set up long tables lined with silver trays full of herring (for the old men) and sweets (for the rest of us), and people would just go nuts. All the kids (including me) would wriggle our way in between the long lines of adults to score goodies before they were all snatched up, and like good children we'd compare plates to see who had accumulated the largest stash of junk food.
At a certain age, the game got old, as I realized that the goodies served at kiddush were actually really gross. The cookies were soft and crumbly, the chocolate was all non-dairy and really yuck, and the pound cake — don't even get me started on the pound cake — was truly terrible. Soft and mushy, but somehow still totally dry and bland-tasting, it was an affront to everything a pound cake should be. It's fair to say that kiddush ruined my appetite for pound cake, and even now, I struggle to get excited about it.
That is, I struggled to get excited about it, until I encountered Alice Medrich. As you might know from past posts, I've never made a recipe from Alice Medrich that wasn't absolutely, positively perfect. Her Pure Dessert is by far my favorite dessert cookbook, and I'm on my way to making every recipe contained therein.

A while back, I noticed a pound cake recipe in Pure Dessert. The recipe is for olive oil pound cake, and calls for no butter at all. Seeing as Medrich is not shy with the butter — not shy at all — I assumed she must know something about olive oil in pound cake that I had yet to discover.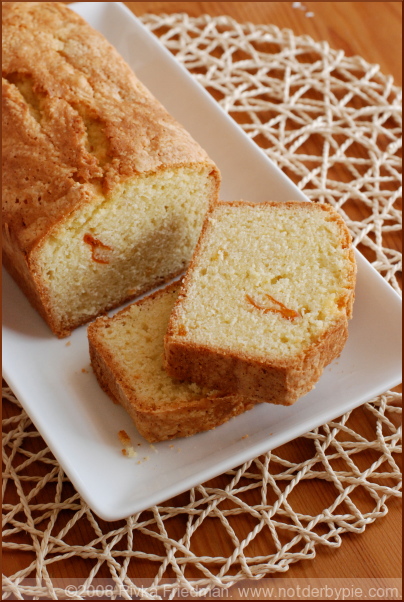 Oh, how right I was — and by that, I mean how right she was — about the olive oil. It lends the pound cake a moist, slightly dense but even crumb that's really just perfect. Its lower smoking point makes a super crispy crust. And its flavor, especially if you use a high-quality olive oil, is a lovely contrast to the cake's sweetness. I never thought I'd say this, but I loved this pound cake. Like, a lot. Like, so much that I made it twice in one week.
Well, almost. The first round was exactly as the recipe dictated. But the second time I made it slightly differently. (Backstory alert…) See, a couple weeks ago, when I catered that surprise birthday party for Mandy, I went out on a very skinny, brittle limb and made these candied-kumquat-and-olive appetizers that I read about on Alinea at Home that were totally wild-sounding and, oh my goodness, utterly delicious (who knew I even liked kumquats, for serious?). Inspired by the success of something so off-the-beaten-path and unassuming, I made another batch of candied kumquats, you know, just to have. The moment I stuck them in the fridge, it dawned on me that I'd no idea how or where to use them. I could envision a meat dish with them as a condiment or complementary ingredient, but I rarely make meat. I thing they're too strong to just serve over cake or ice cream (though the syrup over vanilla ice cream would be totally divine, come to think of it). So I turned to my new favorite source of advice — twitter. (Are you on twitter? If so, you can follow my kitchen adventures and, um, other fun things.) Sure enough, that did it. The wonderfulPim chimed in with instructions that were under my nose the whole time: stick some into my favorite pound cake recipe (see where I'm going?) and brush the syrup over the top while the cake is still warm. Bingo.
I did just that, using Alice Medrich's tried-and-truly-wonderful pound cake recipe as a base. Except that my sherry ran out while making the first go-round, so this time I used cointreau (I'd have used triple sec but didn't have any on hand), which, with the kumquats and syrup, made an excellent pair. I tell you, this pound cake is a cinch to make (no butter=no creaming necessary), relatively good for you (I said relatively, didn't I?) and simply perfect in its simplicity. I actually served round two last Sunday morning with cowgirl creamery butter, pear-pecorino salad, and frittata, and as D said, it made for a somewhat unconventional but plenty delicious brunch.
What of the first picture in this post, the slice of cake with a dollop of chocolate ganache? Well, the lovely Lara of Cook and Eat and Still Life With… has launched a Flickr photography group (check Lara's websites for details), and in an attempt to kick it up a notch, I've joined. First challenge? Bread and chocolate. Easy said as done — and by the way, kumquats and chocolate are a match made in heaven.
Olive Oil Pound Cake
from Alice Medrich's Pure Dessert

3 cups (13.5 oz) all-purpose flour
2 tsp baking powder
¼ tsp salt
2 cups sugar
1 cup flavorful extra virgin olive oil
2 tsp grated orange zest (from 1 medium orange)
5 large cold eggs
1 cup medium (amontillado) sherry

Position a rack in the lower third of the oven and preheat the oven tot 350 °F. Grease and flour the pans. (Or, if you prefer, line the bottom and sides of the loaf pans with parchment.)
Mix the flour, baking powder, and salt thoroughly in a large bowl and sift together. Set aside.
In the bowl of a stand mixer (with the whisk attachment if you have one), beat the sugar, oil, and orange zest on high speed until well blended. Add the eggs one at a time, beating well after each addition; continue to beat until the mixture is thick and pale, 3 to 5 minutes. Stop the mixer and add half of the sherry. Beat just until blended. Repeat with another third of the flour, followed by the remaining sherry, and then the remaining flour.
(If desired, now would be the time to incorporate any add-ins, including, if you're feeling adventurous, candied kumquats.)
Scrape the batter into the pan(s). Bake until the cake tester comes out clean, 50 to 60 minutes for either the tube pan or the loaves. Cool the cake in the pan(s) on a rack for about 15 minutes before unmolding. Smaller pans, 30-35 minutes.
If using a tube pan, slide a skewer around the tube. If the sides of the pan are straight, slide a thin knife or spatula around the sides to release the cake (unless lined with paper). If using a Bundt or other decorative pan, tap one side of the pan against the counter to release the cake, then tap the other side. Invert the cake onto a rack. Turn the preferred side up before cooling the cake completely. Wrapped airtight, the cake keeps well at room temperature for up to 3 days, or freeze for up to 3 months.