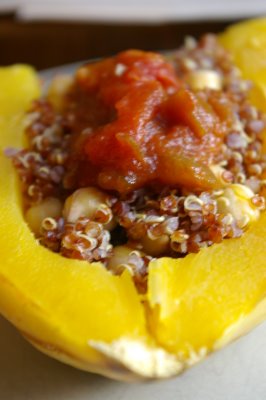 See the notes before each recipe for ways to make recipe non-dairy.
One week from today, Jews will celebrate the holiday of Passover, in which we tell the story of our enslavement in Egypt, our eventual exodus from slavery, and our future wandering in the desert and entering of the land of Israel. As tradition has it, the Jews left Egypt in the wee hours of the morning, and thus did not have a chance to let their daily bread dough rise before baking it. As a result, during the whole holiday of Passover, we are not supposed to eat any leavened product of any kind. Once flour and water come in contact, they must be cooked and ready to eat no more than 18 minutes later. That's where matzah comes into play: it's "bread" that is made and baked in record speed, and it's a staple during the course of the holiday (even if it's totally flavorless and not so kind on the stomach).
Faced with a prohibition on eating any bread, cake, muffins, and other good carbs, many folks make Passover into a meatfest. Not in this house, though: I grew up in a pescetarian household, and Passover was no exception. As you might imagine, this made good Passover cooking a challenge. If you can't use any flour in what you cook — including non-wheat flour — what do you make as a main dish?
In the past couple weeks, I've gotten more than a few questions from people who are vegetarians or are hosting vegetarians over Passover and are at a loss for what to serve. While I won't say that I don't miss flour on Passover — because I do, and I get very, very excited for my annual pizza trip after the holiday ends — I will say that there are a lot of great ideas for Passover-friendly vegetarian mains, things that are truly delicious and will take the edge off Passover prohibition.

My philosophy is that the best dishes are the ones you would make even if it weren't Passover. With that in mind, I've gathered together a few recipes to share, as well as some tips about ways to alter regular recipes for the holiday. Also, a note to my gluten-free readers: Passover is truly a gluten-free goldmine. Because nothing contains flour, kosher-for-Passover can't develop gluten. I hope this post contains some valuable info for you, and feel free to chime in below, in the comments, if you've got other ideas! Without further ado…
Note: I've made a separate page for each recipe for easy printing. The titles below link to the respective pages; simply choose the "print this post" option to print out the recipe. However, do try to limit your printing, for tree-friendly reasons.

Five Vegetarian Passover Mains Dishes

Squash Stuffed with Quinoa, Pears and Cranberries
from the archives

1 red onion
2 firm pears, any kind will do
1 stalk celery
¼ cup pecans
1 bunch fresh thyme
1 small container apple juice (total ½ cup)
1 small container vegetable broth (total 2 cups: can substitute water)
4 delicata squash, depending on size, or 2 butternut squash
1 box quinoa of any variety

Bring the broth to a simmer in a saucepan over medium heat. Stir in the quinoa and cook according to the directions on the package. (We cooked ours over medium heat for ten or so minutes, then turned off the heat and let it steam the rest of the way.)

Once the heat has been turned off, add the diced pears and cover the pot, allowing them to par-cook with the quinoa.

Meanwhile, sauté onion and celery in a couple Tbsp of olive oil over medium heat, until soft and translucent. Add thyme, and continue to sauté. (Here's the truth: we let the onion and celery go on a bit too long, and it got a bit charred…and delicious. I highly recommend charring the onion and celery!)

Add the cranberries, onion/celery/thyme, pecans and apple juice to the cooked quinoa, and toss. If needed, add salt and pepper.

Halve squash, and remove seeds. Roast squash face down on a sheet pan covered in parchment paper until a knife can easily pierce the flesh — about 45 minutes for butternut and 15 for delicata. Turn over and allow to cool about 20 minutes.

Fill squash with quinoa mixture; if desired, drizzle with a bit of honey. Serve warm.

Spinach and Roasted Red Pepper Gratin
adapted from Epicurious

It's quite hard to make a gratin without any cream or cheese; however, there's another great way to get all these flavors that's dairy free and delicious: a roasted vegetable terrine. See this post for the recipe.

4 10-ounce bags fresh spinach leaves
3 red bell peppers
1 1/2 tablespoons butter
1 1/2 tablespoons olive oil
3 medium leeks (white and pale green parts only), thinly sliced (about 3 cups)
1 large shallot, chopped (about 1/4 cup)
3 garlic cloves, minced
1 cup whipping cream
4 large eggs
1 cup part-skim ricotta cheese
1/2 cup grated Swiss cheese
1/4 cup grated Parmesan cheese
1 1/2 teaspoons salt
1/2 teaspoon ground black pepper

Heat large deep nonstick skillet over medium-high heat. Working in batches (about 10 cups at a time), sauté fresh spinach in dry skillet until bright green and wilted, about 2 minutes per batch. Transfer spinach to strainer. Squeeze spinach dry; roll in kitchen towel to remove excess water.

Char peppers directly over gas flame or in broiler until blackened on all sides. Enclose in paper bag; let stand 10 minutes. Peel, seed, and slice peppers into 1/4-inch-wide strips.

Melt butter with oil in heavy large skillet over medium heat. Add leeks, shallot, and garlic; cook until soft, about 5 minutes. Remove from heat. Whisk cream and eggs in large bowl to blend. Whisk in all cheeses, salt, and pepper. Stir in spinach, leek mixture, and 2/3 of roasted red peppers (reserve 1/3 of peppers for topping). (Can be prepared 1 day ahead. Cover and refrigerate.)

Preheat oven to 350°F. Generously butter 13x9x2-inch baking dish. Transfer spinach mixture to prepared dish. Bake gratin until knife inserted into center comes out clean, about 50 minutes. Arrange remaining red pepper strips decoratively atop gratin and serve.

Butternut Squash and Creamed-Spinach Gratin
adapted from Gourmet

While this wouldn't be a gratin without the cream and Parmesan, it can be transformed into something equally flavorful. Cube butternut squash and roast in a 450-degree oven for 25-30 minutes, until brown and caramelized. Cook onion and garlic in olive oil for about 10 minutes, until translucent and starting to brown. Add in some pine nuts — about a handful — and let them toast, about 4 minutes. Add all of spinach, and cook just until wilted, about 1 and a half minutes. Salt and pepper; combine with squash, and serve.

3 pounds fresh spinach, stems discarded, or 3 (10-ounce) packages frozen leaf spinach, thawed
5 tablespoons unsalted butter plus additional for greasing pan
3/4 cup finely chopped onion (1 small)
3 garlic cloves, minced
1 1/2 teaspoons salt
3/4 teaspoon black pepper
Rounded 1/4 teaspoon freshly grated nutmeg
1 cup heavy cream
4 pounds butternut squash (2 large), peeled, quartered, and seeded
2/3 cup grated Parmesan cheese

If using fresh spinach, bring 1 inch water to a boil in a 6- to 8-quart pot over high heat. Add spinach, a few handfuls at a time, and cook, turning with tongs, until wilted, 3 to 5 minutes. Drain in a colander and rinse under cold water.

Thoroughly squeeze cooked fresh or thawed frozen spinach in small handfuls to remove excess moisture, then coarsely chop and transfer to a bowl.

Melt 3 tablespoons butter in an 8-inch heavy skillet over moderately low heat, then cook onion and garlic, stirring, until softened, 3 to 5 minutes. Add onion mixture to spinach along with salt, pepper, nutmeg, and cream and stir to combine.

Put oven rack in upper third of oven and preheat oven to 400°F. Butter a 3-quart shallow baking dish (13 by 9 inches; not glass).

Cut squash to separate bulb section from solid neck section, then cut pieces lengthwise into 1/8-inch-thick slices with slicer or sharp knife (with knife, slices will be slightly thicker — which is fine).

Layer squash and spinach mixture in baking dish, using about one fifth of squash and one fourth of spinach for each layer, beginning and ending with squash. Sprinkle top layer of squash evenly with cheese and dot with remaining 2 tablespoons butter, then cover directly with a sheet of parchment or wax paper. Bake until squash is tender and filling is bubbling, 25 to 30 minutes. Remove paper and bake gratin until browned in spots, 10 to 15 minutes, or broil 3 inches from heat, 2 to 3 minutes.

Eggplant Involtini with Feta
adapted from Nigella Lawson

2-3 large eggplants, cut lengthwise in thin slices
3 cups (about 1 jar) tomato sauce
2 cups crumbled feta cheese plus extra for topping
1 cup grated parmesan plus extra for topping
1/2 cup walnuts, finely chopped
1/2 cup raisins, soaked in hot water for 10 minutes (optional)
1/2 cup black or kalamata olives, sliced
4 tbsp olive oil
1 garlic clove, crushed or finely chopped
zest from 1 lemon
a good pinch of dried mint
2 Tbsp parsley
1 egg

Brush the eggplant slices on both sides with olive oil and grill or roast them in a 400-degree oven until soft, about 10 minutes per side.

Mix all filling ingredients in a large bowl and stir to combine. Put about a tablespoon of filling on each eggplant slice and roll it up firmly. Use a toothpick to hold in place, or just ensure that the edge is tucked underneath the roll to prevent it from coming undone.

Layer the slices in a 9×13 dish, and cover with tomato sauce. Top with any remaining filling, or extra cheese if you have. Bake at 375 degrees for 25-30 minutes. The involtini should be served warm (lukewarm according to Nigella, but I prefer them warm).

Crisp Potato Eggplant Tart
adapted from Great American Food, by Charlie Palmer with Judith Choate

2 1/4 cups finely diced, peeled eggplant
1 teaspoon coarse salt plus more to taste
1/4 cup plus 2 tablespoons safflower oil
3 tablespoons minced shallots
4 large Idaho potatoes
Pepper
1/4 cup (1/2 stick) unsalted butter

Place eggplant in a nonreactive bowl. Toss with 1 teaspoon of salt and allow to sit for 20 minutes. Remove to a clean kitchen towel and tightly twist to squeeze out all moisture. Set aside.

Heat 2 tablespoons of oil in a medium sauté pan over medium heat. Add the eggplant and shallots and sauté for about 6 minutes, or until very tender. Remove from heat and set aside.

Peel potatoes. Using a hand grater or mandoline, shred potatoes into a clean kitchen towel. Tightly twist to squeeze out as much moisture as possible.

Preheat oven to 375°F.

Heat remaining 1/4 cup of oil in a 9-inch ovenproof, nonstick sauté pan over medium heat. Using a spatula, evenly press half of the potatoes into the pan. Season to taste with salt and pepper. Spread the reserved eggplant over the top. Pat remaining potatoes evenly over the eggplant. Again, season to taste with salt and pepper. Cook for about 10 minutes, or until bottom is golden. Carefully turn and dab the crust with bits of butter. Cook for about 5 minutes, or until bottom begins to crisp. Place in the preheated oven and bake for 25 minutes, or until potatoes are cooked and tart is golden and crisp. Remove from oven and allow to rest for 5 minutes. Using a sharp serrated knife, cut into 6 wedges and serve immediately.