Whew! It's been a while, hasn't? I could make excuses — work, Passover, a drab, terrible winter that dragged on and threatened never to leave — but I'd rather just get down to business. I hope you've been well these last few weeks, cooking all sorts of delicious things and enjoying the change of seasons. We've been busy, and also under the weather, which hasn't resulted in much cooking. But I'm back, and I've got a slaw to share today. I want to share it, so you can go and make it. There's no time to waste.
In my recipe browsing, I saw a recipe for red cabbage salad and thought, now whatever happened to red cabbage? I haven't touched it since sometime last year. It seems I'd forgotten about it. And while red cabbage brings braised, creamy joy in winter, it makes a fine base for a spring salad, too.
As you know, I dislike mayo and really don't use it, ever. Yogurt offered itself as a perfect substitute to make this slaw creamy. The dressing is tangy-tangy, from yogurt and lemon. It's got a healthy amount of black pepper, because I like a bright salad to have some lingering bite. And it's got plump golden raisins (which I soaked with some red onions in rice vinegar, to soften and season them), as well as fresh mint. So there's not much to it, but I tell you, when we served it for Saturday brunch, it got gobbled right up. The little leftovers were a late-afternoon snack, and by Sunday, I was off to the races again, fixing a fresh batch.
I'm so, so happy it's spring. We've waited for this forever. The coming weeks will contain many un-frigid trips to the farmers' market, the glorious return of my beloved asparagus, cultishly obsessed hordes snatching up ramps and morels and fiddleheads, and yes, plenty more cooking. See you there.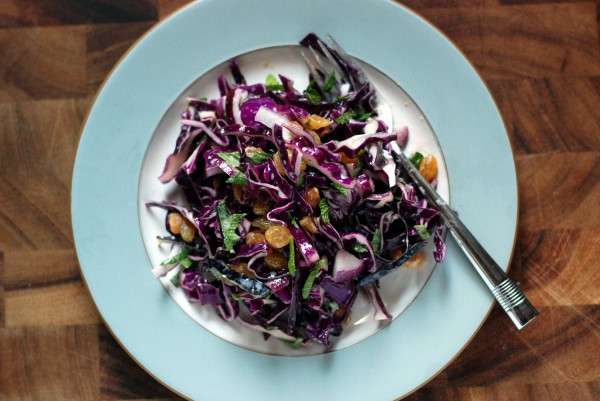 Red Cabbage Slaw with Golden Raisins and Mint
serves 4-6

Half a red onion, sliced into thin quarter-moons
1 cup golden raisins
1/4 cup rice wine vinegar
Half a medium-large head of red cabbage, shredded
1 cup fresh mint leaves, coarsely chopped

For the dressing:
1/4 cup yogurt
1 tablespoon mustard (I like either grainy or smooth dijon)
2 teaspoons honey
3 tablespoons extra-virgin olive oil
juice of 1 lemon
1 teaspoon salt
1/2 teaspoon freshly ground black pepper

In a small mixing bowl, combine onions, raisins, and rice vinegar. Stir to coat, and set aside 30 minutes. (This step is nice, but not essential; if pressed for time, cut the vinegar in half, toss the ingredients together, and let sit while you prepare the rest of the salad.)

Meanwhile, prepare the dressing: combine all ingredients in a jar with a tight lid. Shake for 10 seconds until fully emulsified.

In a large mixing bowl, combine cabbage, onions and raisins (with whatever little vinegar remains in the bowl), and 3/4 cup of the mint. Pour half the dressing and toss the salad. Taste, and add more dressing as needed.

Sprinkle remaining mint on top of salad and serve. Salad can be made and mixed up to 1 hour in advance.