It's official: Rhubarb Curd Shortbread is a winner! These treats took top prize over at Food52's "your best rhubarb" contest, and they'll be going into the food52 cookbook! Thanks to you all for voting and visiting!
When it comes to pantry stocking, I'm a minimalist. I keep only those things I need, being careful to clear out those non-essentials, so that I have as much space as possible for vegetables and cheeses in the fridge, ample room in the cabinets for all my pots and pans.
Um, can you hear the snickers and scoffs in the background?
In truth, I couldn't be less of a minimalist if I tried. I have absolutely no this-not-that discipline; I so readily add to my growing list of "essentials" that my fridge simply feels naked without homemade rum-soaked cherries, Shady Maple Farms maple butter, Huy Fong sriracha and sambal oelek, Aleppo pepper, homemade tamarind pulp, and even a jar of caramelized onions (which I make in bulk and keep on hand — perhaps my wisest decision ever). What has become of my fridge? Whither simplicity?
If you thought this'd be my mea culpa, the one where I clean out the clutter and make some simple toast and butter, think again. The above items, however quirky and specialized, truly have become staples. My toast simply wouldn't be as good in the morning without a slather of thick maple butter. The rum-soaked cherries made my brunch pound cake a whole different thing, all the more so for its finishing gloss of that cherry-rum syrup. Yes, I'm crazy. But these are the items that bring character to my fridge. They're what make those "what's for breakfast?" questions so fun to answer.
And today, I'm adding one more item to this list: rhubarb curd.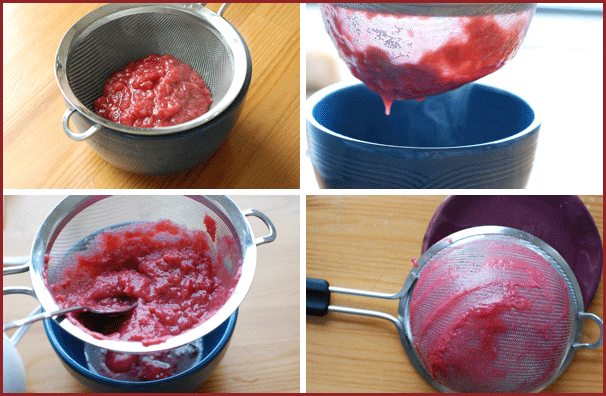 Is it totally ridiculous to declare rhubarb curd a new pantry staple? Because I think I'm headed in that direction. If I can keep it around that long, that is.
While lemon curd has long been a favorite here at NDP, rhubarb curd gives lemon a run for its money. Come to think of it, rhubarb curd reminds me of a passionfruit curd I had once (I think it was from Zingerman's in Ann Arbor). There's something about it that makes you eat a spoonful, think for a moment, and go back for more. The fact that it's pink food also doesn't hurt.
The idea for the rhubarb curd shortbread came from Lara over at Cook and Eat. Her photos might be some of the most gorgeous I've ever seen; they instantly had me in drool-mode. I had bought a nice big load of rhubarb over the weekend, and was planning to put half in a crisp and play around with what was left. Those rhubarb bars couldn't have gone up at a better time.
The shortbread recipe I used is adapted from Karen DeMasco, my new dessert guru. I took her basic shortbread recipe, cut the sugar, and added some spices to complement the rhubarb.
While I ate an embarrassingly large portion of the curd straight out of the bowl, I spooned the rest onto the shortbread, which I generously shared with the lady. Think it's no biggie that I shared it with one other person? Well, you go make this, and then let me know how you do on the sharing.
Rhubarb Curd Shortbread
curd adapted from Cook and Eat, who adapted it from Ginger Tablet

For the curd:

3/4 pounds rhubarb (about 6 stalks)
4 tablespoons water
1/4 cup sugar
4 egg yolks
1/3 cup plus 1/8 cup sugar
1 teaspoon lemon zest
2 teaspoons lemon juice
3 tablespoons butter, cut into chunks

For the shortbread:

12 tablespoons butter, cut into small pieces
1/4 cup powdered sugar
1/2 teaspoon salt
1 1/2 cups all purpose flour
1/4 teaspoon powdered galangal or ginger
1/4 teaspoon cinnamon
a pinch cloves

Wash rhubarb and trim as little off the ends as possible. Cut rhubarb into 1-inch chunks. In a small saucepan, heat rhubarb, 1/4 sugar, and water on medium. Cook until rhubarb falls apart and there are no whole pieces left, adding water by the tablespoon if rhubarb sticks to the bottom of the pan. At this point, either use an immersion blender to puree the mixture, or (if you're like me and your blender is otherwise occupied) push the mixture through a strainer. The first method is definitely easier.

Preheat oven to 350. Now, make the shortbread: blend all ingredients in a stand mixer or food processor until combined. Wrap in plastic and refrigerate about 1 hour. Then, either roll into 8×8 square and place square in 8-inch square baking pan, or dump dough into pan and use fingertips to press evenly into pan. Bake 30 minutes, until golden. Let cool on a rack or on the counter.

Add a couple inches of water to the pot of a double boiler and set over medium heat. Put egg yolks, butter, remaining sugar, lemon zest, and lemon juice in the boil of the double boiler and whisk to combine. When sugar has dissolved completely, remove bowl from heat and add the rhubarb puree by the spoonful, to temper the eggs. When all rhubarb has been added, set bowl over pot; the water should be simmering. Continue stirring the rhubarb mixture; after about 5 minutes, the mixture will be warm and slightly thickened. At this point, remove from heat. Press through a strainer — this will give your curd that smooth, pudding-like texture.

Use an offset spatula to spread curd evenly over shortbread. If you haven't eaten half the bowl right then and there, you should have enough curd to make a layer about the thickness of the shortbread; I didn't. Bake another 10 minutes, then remove from oven and cool on rack. Refrigerate about 20 minutes, and you'll find that they've firmed up enough to slice cleanly. Cut into 16 equal bars. Dust with powdered sugar before serving; do your best not to polish them all off in one sitting.