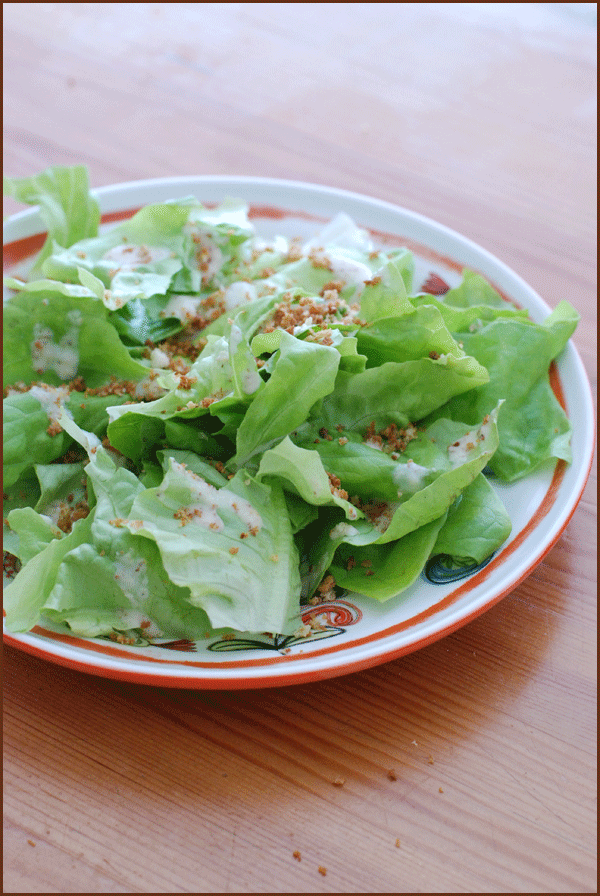 Back in March, when I posted the fourth or fifth consecutive recipe calling for raw fennel, I started to get guilt pangs. Readers, you must have thought I'd gone mad with all that fennel! Truth be told, I'd only recently come to love the vegetable, and once I discovered how delicious it was, the wheels started turning and wouldn't stop. Fennel was everywhere.
Well, those days are behind us now. I have one lonely bulb of fennel in the fridge, and while I do plan to use it in a salad, I promise not to bore you with yet another fennel recipe. No no. Today is about salads that celebrate Spring produce. When there're asparagus to discuss, who wants to talk fennel?
That's what I thought.
Today, we're talking salads. Some scream spring, with asparagus tips and pickled ramps. Others are studies in simplicity: my favorite was this weekend's fix, a big bowl of butter lettuce with a spicy-sweet horseradish dressing from food52 and some butter-toasted breadcrumbs. I've shared a couple recipes below, including that wonderful horseradish dressing. It calls for bottled horseradish, but I made my own (yes, we already know I'm crazy, no need to dwell) and, well, let just say that my allergies are gone, my nose nice and clear.
But recipes aside, folks: just take a look at what's in your fridge. Are there asparagus? Great. Saute, blanch, or roast them until tender but still firm. Chop. Into the bowl. Do you have any lettuce? Arugula? Cabbage? Toss it in, too. If it's cabbage, slice it really thinly, or just let it sit in a couple teaspoons of lemon juice or vinegar, some olive oil, and a couple pinches of salt for about 10 minutes. It'll soften right up. Radishes would be lovely, as well. Don't shy away from fruit, either. A sliced pear does wonders for a bowl of arugula and some pickled ramps. And between you and me, I'll be first in line at the farmers' market when the tomatoes sweeten up. They're great in any salad, anytime.
Horseradish Dressing
adapted from Linz @Different Kind of Human, via Food52

1 lemon
3 tablespoons creme fraiche
3 tablespoons plain whole milk yogurt
1 tablespoon honey
2 tablespoons prepared horseradish
2 tablespoons dijon mustard
1 pinch salt
1 pinch freshly ground pepper

Linzarella has you zest the whole lemon, but squeeze only half of it. I'm a sour lover (you know that), so I used the whole lemon and wasn't sorry. If you're nervous about how much to use, combine everything else in a jar, add half the lemon juice, and then taste and adjust accordingly. This dressing is yet another new staple.

Butter Lettuce Salad with Horseradish Dressing
serves 2 as a main, 4 as an appetizer

2 heads butter lettuce, cleaned
3 radishes, thinly sliced (not pictured)
1/2 cup bread crumbs
1 tablespoon butter
1/3 cup horseradish dressing (recipe above)

Tear lettuce into large bite-sized pieces. Toss into salad bowl or plate individually. Sprinkle radish slices overtop.

In a small frying pan, add butter and heat on medium. When butter is melted and has started to bubble, add breadcrumbs and distribute with a wooden spoon. Cook, stirring occasionally, until bread crumbs have evenly browned. Remove from heat.

Dress salads with horseradish dressing as desired. Sprinkle breadcrumbs overtop, and serve immediately.