The other night, we met friends for dinner at a restaurant we last visited almost exactly one year ago: Range, in Friendship Heights. We went last February, for my birthday, with a few close friends. The restaurant was brand new and very on its game. We had a fantastic meal and even better drinks – some of the best I've had in the city.
This time, our meal was less memorable: the servers were green and very conspicuous, awkwardly explaining and pointing (very closely!) to every element on the plate, interrupting our conversation at what seemed like all the worst moments, and insisting on giving us their spiels when we clearly already understood the concept of small plates. (Restaurants: for heaven's sake, stop with your spiels! Let us eat cake!)
But the drinks. The drinks! They were still as wonderful as I remembered from one year ago. I had an old-fashioned glass full of scotch, pumpkin shrub, and bitters with a hint of cayenne. And D, well she had the most intense drink of all: basically a big glass of whiskey, with a hint of maraschino and bitters. But mostly whiskey. The strongest, least smooth Old Fashioned you've ever had. And what was it called? The Mother-in-Law. Of course.
Before we go any further: I love my in-laws. Got that?
But that's a well-named cocktail. It makes you laugh when you drink it. It sticks with you long after it's gone. And if you liked it, you'll know exactly how to order it next time.
Which is why I felt compelled to rename drink I served for brunch this weekend. The original version is called the 522 North Pinckney, which is one of those names that you only understand if you recognize that it's an address, and then go and know the person whose address it used to be.
Turns out, 522 North Pinckney is the former address of Brian Bartels, who co-owns Fedora, a Greenwich Village Bar, with Gabriel Stulman, who used to run the front of the house at the wonderful Little Owl, in the West Village, and also owns another Village spot called Joseph Leonard, where apparently Brian Bartels mixologizes. (Word? Now it is!) And that's where 522 North Pinckney comes from.
But I've never been to Joseph Leonard. I've never been to Fedora. I've never met either of these (surely fedora-ed) fellows. And I guess I figure that unless drinks have names so common and ingrained that calling them something else misleads people (i.e. bloody mary; mimosa), a cocktail's name should evoke something you understand. Is Ruby Campari Fizz the most brilliant name ever? Ha. But you hear it, and you know what you're about to get.
Behold, the Ruby Campari Fizz: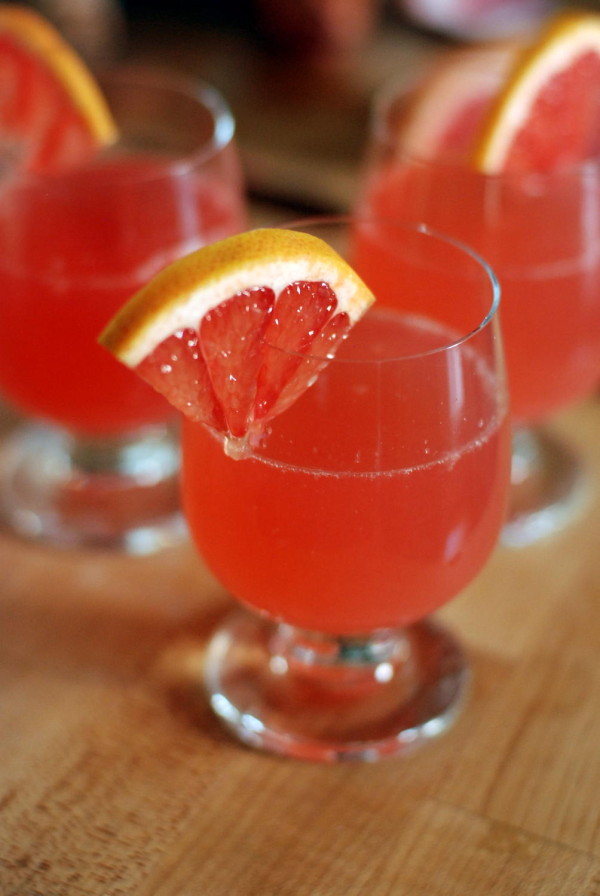 Ruby because your glass is about one-third red grapefruit juice. Campari because it's a prevalent flavor, and the other special liqueur in there – St. Germain – is too unwieldy a name to slap on a cocktail. Fizz is Prosecco or Cava, because you don't need to splurge on Champagne to have a happy new year.
It's a mighty strong way to ring in 2014, whether in the evening, served in flutes, or over New Year's brunch, in a coupe or the like. It's pretty and sparkly and cheery. I hope this coming year is all of those things and more, for all of us.
Happy New Year, friends. Cheers!
Ruby Campari Fizz
Adapted from the bar Joseph Leonard, via Bon Appetit

Makes 8 servings

3 red grapefruits
1/2 cup St. Germain (elderflower liqueur)
1/4 cup Campari
1 750-ml. bottle Prosecco or Cava (go with something inexpensive)

Set a strainer over a large bowl.

Halve grapefruits. Squeeze 5 grapefruit halves into the bowl. If you want your cocktail pulpy, transfer some of the suspended pulp from the strainer into the bowl. Press on remaining pulp and seeds to release any juice, then discard the pulp and seeds. You should wind up with approximately 2 cups of liquid.

Cut the remaining grapefruit half into two. Then slice one of the grapefruit quarters into thin slices along its cross-section. You'll use these slices to garnish the glasses.

Add St. Germain and Campari to the grapefruit juice. Transfer to a pitcher, and refrigerate until ready to serve (at least 1 hour if possible).

To serve, divide grapefruit mixture equally among 8 glasses. (If serving fewer than 8 people, pour about 1/3 cup of the mixture into each glass.) Top with Prosecco or Cava. Set one cross-section slice of grapefruit on each glass, and serve.

(Keep grapefruit mixture chilled before serving, or make up to one day in advance and chill thoroughly.)