The central attraction of the downtown area is, without a doubt, the shuk, or the open-air market. Occupying two long square blocks, it has everything you could possibly want, from fresh fruit and vegetables to prepared foods to hundreds of kinds of cheese to fresh-squeezed juice to full-service cafes and restaurants…and more. It's one of my favorite places in all of Jerusalem, and I make a point to come at least once or twice every time I'm here.
The produce at the shuk alone makes it worth the trip. Fruit and vegetables of every variety are available and shockingly affordable prices. You know those Middle Eastern cucumbers that cost $3 or $4/lb at your local farmers market? It'd be difficult to spend $2 on them here: they cost about 75 cents/kilo, or about 35 cents/pound. Aside from the prices, the variety is refreshing. It's not everywhere that you can get beautiful red tomatoes and even strawberries (!) in December. For those with an exotic streak, there are also sabras (mild-tasting fruit with hot pink exterior and innards ranging from white to purple), pumelos (a cross between a grapefruit, a lemon, and an orange with a hefty pith, a light yellow tint, and a sweet, tart flavor) and many other things.
Smack in the middle of the shuk's indoor strip is my favorite cheese shop. It's perpetually swarming with people angling for their tub of fresh ricotta, goat feta, Bulgarian cheese or labne (a thick, tangy yogurt). And in addition to the over 20 kinds of fresh cheese, the stand also has an unusually large assortment of imported cheeses, which can be hard to find in Jerusalem. Next door, the same folks own a meat stand, where they sell great hummus, meat cigars, and kubbeh (fried semolina dumplings stuffed with ground meat), as well as an assortment of ready-to-eat main dishes and sides. The fun never ends.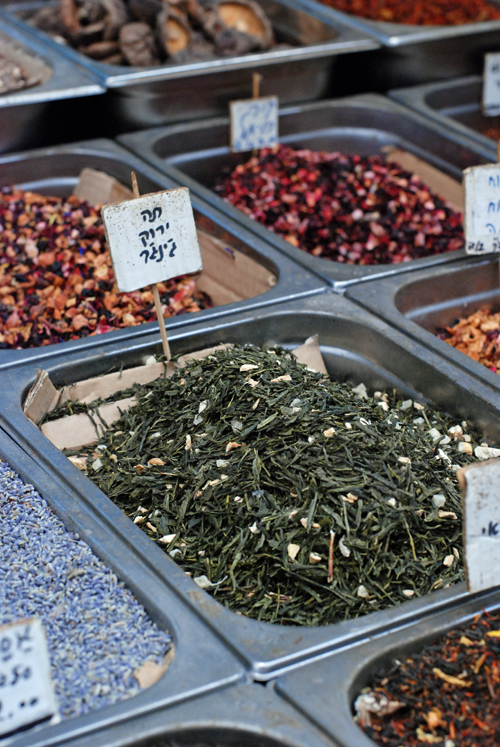 The spices! How could I forget the spices? Truthfully, the spice stands are hard to miss, a real stand-out with their mountainous piles of vividly-colored spices: the crimson paprika, the dark brick sumac, the bright orange tumeric and the oh-so-fragrant cumin. In addition to individual spices, these stands offer several blends, including my all-time favorite hawaij, made of cumin, coriander, cardamom, cloves, tumeric, and black pepper. They also have mixes of toasted nuts, dried onions, and various spices that are meant for sprinkling on salads or soup or cooking into rice.
I would be remiss if I didn't mention the pastries. Pe'er (my personal favorite) excels at making sweet, delicious challah; Marzipan (the tourist hotspot) makes rugelach filled with chocolate or cinnamon-sugar, the pastry so hot and soft it practically unravels in your hand. There are vendors
There are the guys that do everything. At one end of the indoor strip, there's a vendor that makes phenomenal, smoking-hot pita, and sells anything you'd stuff it with, including olives, pickles, hummus and tehina, and a large variety of sauces. He also has a full-service station of meat side dishes, in case pita and fillings aren't enough. Then there are the guys that sell only one thing and aim to make it perfect: about halfway down the indoor strip, there's a stall devoted exclusively to selling halva, that sweet, pasty sesame treat. They sell about a dozen flavors of the stuff, including regular, chocolate, vanilla mocha swirl, black sesame, and more. If you're lucky, they'll be doling out samples as you walk by.
All that shopping can make a person pretty exhausted. That's why there are several cafes inside the shuk, where shoppers and browsers can take some down time and mull over a cappuccino. My favorite is Mizrachi, tucked inside a little corner of the indoor shuk. It's a hotspot on Fridays, when everyone and their mother (literally) is doing some shopping. With good reason: Mizrachi not only makes a great cappuccino and a delicious "toast" (basically a panini), but it sells high-quality chocolate and coffee and selected funky kitchen supplies as well. It provides the perfect respite from the shuk's fast pace and large crowds.
That said, if all else fails, you're totally pooped, and need to get out of the madness, head north on Agrippas street. A few blocks down on your right, you'll find one of my favorite Jerusalem restaurants — Morduch — and one of my all-time favorite Middle Eastern foods: Kubeh Chamusta soup. But that, my friends, is a subject for another post. Stay tuned.