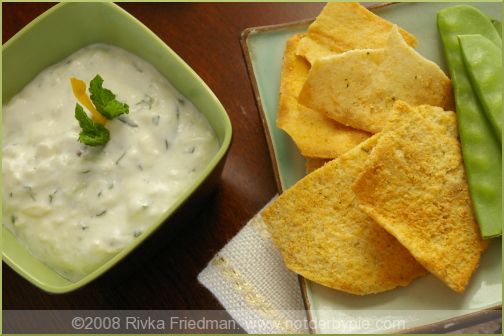 My wonderful mom reminded me that when we first made this, we also grated in 2 pickling cucumbers. I completely forgot to put them in the recipe here! Correction appended.
Have you ever seen a recipe here at NDP that called for mayonnaise? No, I don't think so. Definitely not. That's because I hate hate hate mayo with, well, a passion. It makes my stomach turn just to think about it! Yuck. The grossness of mayo notwithstanding, at least 95.5% of all dip recipes list mayo as an ingredient — incomprehensible, if you ask me. Why not pass up the mayo for some yogurt? Or sour cream, if that's your thing? Why ruin a perfectly good dip with mayo? Disagree if you must — I get that mayonnaise is one of America's favorite condiments. Just not one of mine.
Here's a delightfully fresh and mayo-less dip that's perfect for summer. It's a spin on Mediterranean tzatziki, a dill-spiked yogurt and feta dip. When my mom and I made some for our fathers' day dinner, we spruced it up with fresh chopped mint and parsley in addition to the dill, and added a bit of fresh lemon juice to finish it off. Just when I thought it couldn't be better, I made round two, and grated a bit of lemon zest in as well — good call; a little zest goes a long way. I also experimented with some cumin, which was interesting though unnecessary. As usual, I can think of a hundred ways to tweak this so-called "recipe," like adding other spices, vegetables, herbs, juices, or even bases (yogurt, sour cream, cottage cheese, ricotta, etc) according to your taste. Don't be afraid to play around with it.
Tzatziki

1 15-20ish oz. tub of yogurt, sour cream, or (ick) other something (I used Fage brand greek yogurt)
1 8-oz. block feta cheese, crumbled
juice of 1/2 a lemon
zest 1 lemon
2 pickling cucumbers, grated
1/4 cup fresh mint, chopped
1/4 cup fresh dill, chopped
1/4 cup fresh parsley, chopped (feel free to omit any herbs or add in any you like!)

Combine all ingredients; mix well to combine. Garnish with mint sprigs, dill, or lemon. Serve with crudites (chopped raw vegetables), pita chips, crackers, or anything else.