Well hello dear readers! Nice of you to join me here, at this oft-neglected blog of mine. Work has taken a turn for the busier, and I've not been posting as much as I'd like. The craziness will likely continue through the end of the month, but then I'm home free and will post much more! Meanwhile, thanks for hangin' in there. And you'll be handsomely rewarded for your patience — I have a couple of smashingly delicious recipes in the queue.
As you may have noticed, it's pretty smokin' hot these days. For those of us city folks without a porch, grilling isn't much of an option, but nonetheless, I try to minimize indoor cooking as much as possible during summer months. This orzo salad requires no oven time, and just around 20 minutes of stovetop cooking. It can also be tweaked in any number of ways; as usual, the recipe I provide here is entirely a function of what was in my fridge when I made it, and you should listen to your fridge's innards just as carefully.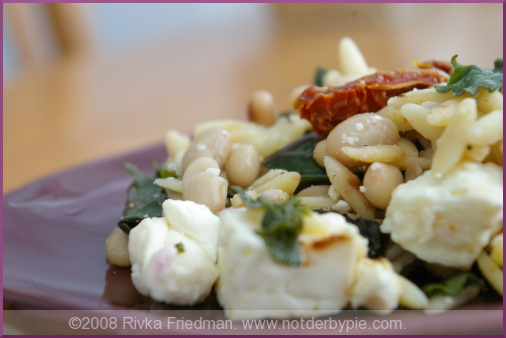 The lovely thing about orzo salad — how can I pick just one! — is that it's the perfect picnic dish. Part side, part main, nutritious, tasty at room temperature, it really behaves itself on the gingham tablecloth. I served this a couple weeks ago for lunch alongside mini crustless mushroom quiches (delicious, though I've no pictures to prove it). However, it's just delightful on its own, as well.
Mediterranean Orzo Salad

2 1/2 cups orzo
1 bunch kale, de-stemmed and chopped
1/2 cup sundried tomatoes*
1 block feta cheese
1 can of cannellini beans
1/2 a yellow onion, chopped
1/4 cup red wine vinegar
olive oil
salt and pepper

*If sundried tomatoes are packed in oil, roughly chop them. If they are dry, soak them in a bit of warm water for 10-20 minutes to reconstitute.

Cook orzo according to package directions. Strain water, reserving just a bit to prevent clumping. Set aside.

In a heavy-bottomed saucepan, heat a few Tbsp. of olive oil over medium-low heat. Add onion, and cook slowly until it begins to caramelize, about 15 min. When the onion is translucent and has begun to turn golden, add chopped kale, some salt, and a splash of water, and cook for about 5 minutes until kale has wilted. Remove from the heat and add immediately to orzo, tossing to combine.

Add beans and sundried tomatoes; stir to incorporate. Chop feta into cubes, and add just before serving. Taste the salad; if it needs some acidity, add some red wine vinegar. I ended up adding about 1/4 cup. Add salt and pepper as needed, and finish with a scant drizzle of olive oil.

**Ideas for tweaking (and beyond):
– spinach, feta, cherry tomatoes, basil
– rainbow chard, pine nuts, goat cheese
– cucumbers, red peppers, feta, mint
– mushrooms, goat cheese, fresh thyme
– pears, gorgonzola, walnuts