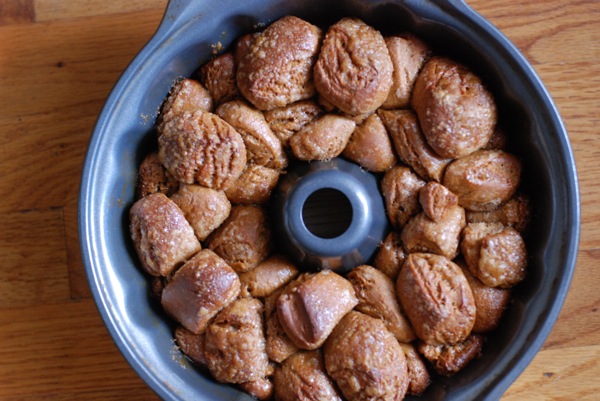 That's some ginger monkey bread, or monkey gingerbread, or deliciousness. Because why not? Consider it your weekend project.
A few links for this chilly Thursday. Enjoy!
*
If you haven't yet read the truly astounding 5-part NYT series "Invisible Child," about 12-year-old Dasani and her life as a homeless girl in New York, go read it now. Then go to The Wednesday Chef, where awesome Luisa is auctioning off half (half!) of her very impressive cookbook collection to benefit the Invisible Child Fund at the Legal Aid Society in New York. The story will move you, the cookbook collection will thrill you, and if you feel moved enough — or thrilled enough — to bid on, say, a signed copy of Thomas Keller's Ad Hoc at Home, the Legal Aid Society will thank you.
*
Did you see Jiro Dreams of Sushi? If so, surely you remember the scene where one of Jiro's apprentices tells of the time when, after years of attempting to make the famed tamago yaki, the custardy egg sushi that ends a meal at the restaurant, Jiro finally tells him that his custard is acceptable, and he cries of happiness. Well, now that very same apprentice has a restaurant in New York, and….you should read all about it.
*
Molly has taken my favorite cabbage recipe, Marcella Hazan's Smothered Cabbage (from which I made risotto, back in 2010) and transformed it into soup. Soup that was made for the chilly nights we've been having here in DC. Added to my must-make list.
*
White House holiday cookies, because yes. They even made Bo cookies! If I'm lucky, I'll see some of these goodies when I go see the WH all dressed up for Christmas later today.
*
You may remember that I discovered a new favorite sourdough starter and bread method, from Tartine Bakery, earlier this year. Tartine's method is involved, but once you get the hang of it it's both straightforward and sufficiently flexible to find its place in your daily (or in my case weekly) routine. I love that Food52 is doing a whole series on bread making and baking with Chad Robertson, the proprietor of Tartine. Check it out.
*
Lastly, Deb just posted my all-time favorite torte on her blog. You guys, you've gotta make Linzer. It's the best.
Happy Thursday!