This is my bread.
It starts with this gurgling little beast, my homemade sourdough:
I'm telling you, it's alive.
(I still need a name for the beast. I'm taking suggestions.)
I've been making this loaf for a few weeks now, tweaking it every so often here and there. It started as a multigrain loaf, with whole wheat and barley and rye all mixed together. I found the flavor a bit muddled, though, and the loaf was too dense. Since I was working with Anson Mills' rye flour, which is fragrant and flavorful and deserves to be celebrated, I simplified the recipe down to some white flour, some rye. Now the loaf is lighter and the rye really comes through.
Good rye flour really makes this bread sing, but there are plenty other things to love about it – enough that, were you to make it with whole wheat instead of rye, I think it would still be special. It's got cocoa and cinnamon, cloves and black pepper. Not a lot of any of these, mind you. None really clears its throat to announce its presence. The spices play a supporting role, like the honey in the dough. And they work really nicely with the golden raisins, which give pops of sweetness as you eat.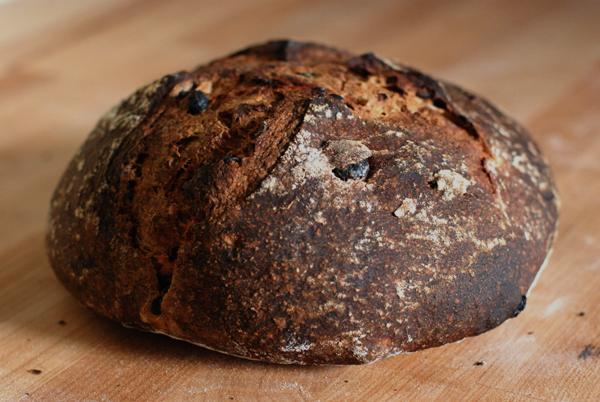 I love a good white sourdough loaf, and I love a good baguette. I adore this corn-filled bread that my friend Jess introduced to me when I visited her and Eli and their beautiful (beautiful!) daughter Mia last year. But this bread, this has become the bread.

I start it on Saturday night, then promptly head off to bed. Sunday mornings, before doing all those little Sunday morning things, I fold it on itself a few times and cuddle it up on a tea towel to do its work while I'm out. By midday, we have brown, burnished loaf, ready for a week of toast.
The rhythm here is key: Saturday nights are when I feed my sourdough, dutifully dividing the beast in half and feeding it flour and water to make it grow. The unfed half is meant to be used — in bread, duh — and mine goes straight into the bowl with spices, raisins, and all the other goodies.
If you don't have sourdough, a) come to my house, I'll give you some. Or b) see the instructions below to make this bread without. It's less sour, of course, but really delicious in its own right.
A worthy weekend project, if you ask me.
Cocoa-Rye Raisin Bread
inspired by recipes by Pim and Jim Lahey

This bread lends itself easily to any necessary substitutions. If you don't have or don't want to buy rye flour, use whole wheat. If you don't have sourdough, add 1/2 a teaspoon of yeast, and replace the 8.5 oz starter with 1 cup flour and 1/2 a cup water, added when you add the other flour and water to the dough.

10 oz. (2Â  1/4 cups) bread flour or AP flour
4.5 oz. (1 cup) rye or whole wheat flour
2 tablespoons cocoa
1 teaspoon cinnamon
pinch ground cloves
pinch black pepper
2 teaspoons kosher salt
1/2 cup raisins
8.5 oz. 100% hydration starter, fed at least 8 hours earlier (see note)
9 oz. (1 1/8 cups) room temperature water
1 1/2 tablespoons honey

In a small bowl, mix together the flours, cocoa, cinnamon, cloves, pepper, salt, and raisins until fully combined. (If using yeast instead of sourdough, add it to this mixture.)

In a medium bowl, mix together the starter, water, and honey to make a uniform mixture. Add the dry ingredients and, using a fork or your hand, mix until you have a wet, shaggy dough, about 30 seconds. Cover the bowl with plastic wrap or a towel and let sit at room temperature until the surface is dotted with bubbles and the dough is more than doubled in size, 12 to 18 hours.

When the first rise is complete, generously dust a work surface with flour. Use a bowl scraper or rubber spatula to scrape the dough out of the bowl in one piece. Using lightly floured hands or a bowl scraper or spatula, lift the edges of the dough in toward the center, folding it into itself. After doing this a few times, tuck in the edges of the dough to make it round.

Place a tea towel on your work surface and dust it with semolina, wheat bran, cornmeal, or flour. Gently place the dough on the towel, seam side down. If the dough is tacky, dust the top lightly with wheat bran, cornmeal, or flour. Fold the ends of the tea towel loosely over the dough to cover it and place it in a warm, draft-free spot to rise for 2 hours. The dough is ready when it is almost doubled. If you gently poke it with your finger, it should hold the impression. If it springs back, let it rise for another 15 minutes.

Half an hour before the end of the second rise, preheat the oven to 475 degrees F, with a rack in the lower third of the oven.

You have two choices for baking this bread.

The first is the Jim Lahey method. Preheat a large, covered pot in the oven. When the oven hits 475, use potholders to remove the pot (and uncover it) and then uncover the tea towel and carefully invert the bread into the pot. Cover the pot, transfer to the oven, and bake for 30 minutes. Then uncover the pot and bake another 15 minutes. Use a heatproof spatula or pot holders to gently lift the bread out of the pot and place it on a rack to cool thoroughly.

The second method is definitely easier and allows you to make pretty slashes on the top of the bread. Preheat either a pizza stone or a heavy metal baking pan in the oven. If using a pizza stone, flour a peel and put the shaped bread dough on the peel. Make your slashes there, then transfer it from the peel onto the preheated stone. If using a baking pan, make the slashes on the tea towel, then remove the pan from the preheated oven and transfer the slashed dough onto the pan. Either way, bake the bread for 40-45 minutes, until the top is deeply browned but not burned. Transfer to a rack to cool completely.