Since Adi was born, we've been the extremely lucky beneficiaries of meals that our friends have prepared and delivered to us a few times each week. While I've managed to cook and bake a few things, the opportunities tend to come in very short spurts: 30 minutes of down time in the morning means I can put up a bread dough or simmer some lentils, and if I'm lucky, I get an hour of quiet in the afternoons to bake off that bread or season those lentils. Lunch time isn't downtime, though, so I often find myself reaching for a few apple slices and a hunk of cheese from the fridge, just enough to tide me over. I've got a bag of mixed nuts and raisins that I keep on the side table where I nurse, and I'd say I polish off that bag and call it lunch more often than not.
There was a time when apples and cheese weren't just snacks to grab on the go. We're part of a wine club, which meets once a month for wine tasting and a dinner, cooked by the host, to match the wine. Before the babe was born, my brother- and sister-in-law Adam and Julie hosted an evening of Rioja tasting, and Julie made an absolutely bang-up meal to go with the wine, riffed on tapas she'd eaten at restaurants around town. Pretty much everything on the table was a standout, but one recipe in particular has become a staple in our house ever since: a simple, addictive apple salad with shavings of manchego cheese, buttery marcona almonds, and roasted garlic dressing.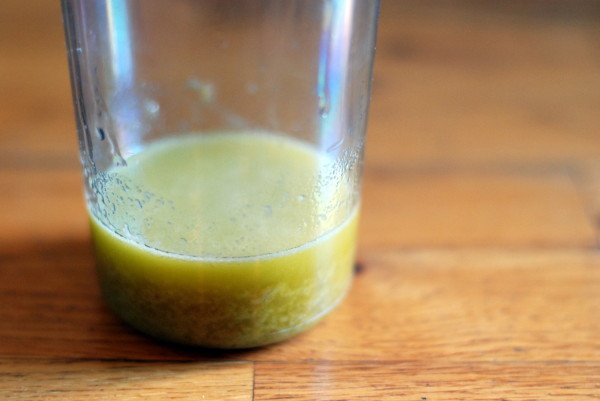 It feels like cheating to even call this a salad, especially in a week where everyone's resolving to eat more kale. There isn't a leaf in sight: apples are the star of the show. On a couple occasions, I've sliced a small wedge of fennel bulb into the salad, but honestly, it's best when the apples do the job alone.
The dressing is a big part of the genius behind this recipe: you poach garlic in olive oil until soft, then blend the oil and garlic into a smooth emulsion that serves as the base for the dressing. I find that this works best when done in larger quantities, since the olive oil and garlic can fill the bottom of the pan. Conveniently, I eat this salad frequently enough that it serves me well to have a jar of garlic oil dressing ready to go in the fridge. If you're so inclined, double or triple the dressing recipe so that if, as I can pretty much guarantee, you love this salad, you can make it again in a jiffy.
One last recommendation: If you're eating it alone (as I so often do), get yourself a nice, hefty bowl. Salads are so much happier when the key players have room to mingle. Don't suffocate the poor thing with a tiny dish.
And eat this salad with people you really like. Those seven cloves of garlic aren't kidding.
Apple-Manchego Salad with Roasted Garlic Dressing
Lightly adapted from a recipe in Mercury News

Notes: As I mentioned above, I often double the dressing and keep the extra in the fridge. It goes well on pretty much any salad; it's also lovely drizzled over warm goat cheese or as a marinade for chicken.

Marcona almonds are a Spanish almond that's sold blanched and roasted. Their rich, buttery flavor is totally different from the almonds we're used to eating, so you should go to the trouble of procuring them for the salad. (The good news is they're available at Trader Joe's.) If you can't find them, roast almonds in a bit of olive oil and salt until golden and fragrant.

For the dressing:
7 medium garlic cloves, peeled
1/4 cup extra-virgin olive oil
2 tablespoons sherry vinegar (or substitute apple cider vinegar)
1 tablespoon chopped shallots
1 teaspoon kosher salt
1/8 teaspoon freshly ground pepper

For the salad:
6 large Granny Smith apples
Juice from 1 lemon
3 tablespoons chopped chives
3 ounces manchego cheese, shaved with a vegetable peeler, divided
1 1/4 cups marcona almonds

Make the dressing: In a small saucepan, combine garlic cloves and olive oil over medium heat. Cook until garlic has softened and started to turn golden around the edges, about 5 minutes. The smaller the pan, the better – you want the garlic nearly submerged in the oil. Sometimes I set the pan onto the burner tilted, so the garlic and oil gather in one corner and the garlic is fully submerged. Either way, make sure not to burn the garlic; reduce the heat if garlic sizzles a lot or seems to be cooking too quickly.

Blend garlic and oil in small processor or using immersion blender, until smooth. Add vinegar, shallots, salt, and pepper; stir to combine.

Make the salad: Using a knife or a mandoline with a matchstick attachment, julienne the apples into matchsticks about 1/3-inch thick, or simply slice apples thinly. Combine apple slices with the juice of one lemon, which prevents the apples from browning.

If serving family style, combine all salad ingredients in a large bowl, reserving a pinch of chives and a small handful of almonds. Dress the salad, starting with just enough dressing to coat, and adding to taste. Toss; top with remaining chives and almonds.

If plating, combine everything but the almonds in a bowl, dress as above, and plate before sprinkling almonds over each portion.