With the plentiful tomato salads and the peach cobblers of a good East Coast summer, lentils are often forgotten, relegated to the soups, stews, and curries of colder months. Such has been the case in our home. We've plowed through pint after pint of beautiful blackberries (making just a couple of these). We've eaten our weight in red, orange, yellow, even purple cherry tomatoes (and fried our fair share of green ones; if you're clicking over, check out those vintage NDP photos! My, how far we've come…). But the lentils, they linger in the pantry, waiting for the air to grow colder.
The lentils were hiding, for sure. But last week, I peered deep into my pantry, looking for items begging to be used – the neglected cans or bags of whatever legume I felt inspired to buy, however many months ago. Blame it on the new home purchase: I'm already twitching at the thought of migrating my whole kitchen worth of stuff, so the leaner, the better. Also: last week, I was reading about Slow Food USA's $5 Challenge, a call to food lovers to "take back the value meal" by gathering friends and family and eating a meal that costs $5 a head. Lentils give some of the best bang-for-buck of any food item out there. They're inexpensive, full of protein, and easy to make. Also, easy to make taste delicious.
In the case of last week's one-pot wonder, lentils met up with roasted red peppers, tomatoes, parsley, plenty of feta cheese, and a zippy lemon vinaigrette. We ate it just that way for dinner on Monday, and it was great. When I packed it for lunch later in the week, I decided I wanted it to have a kick, so I added a couple tablespoons of homemade sriracha to the mix. (That's right: I finally made my own sriracha! Folks, the stuff is amazing. I'm planning meals around it. If you're at all interested in making some for yourself, I'll post my own experience soon, but the original recipe can be found here.) I liked the salad even better with the spicy sriracha mixed in. Feel free to skip it, if you prefer.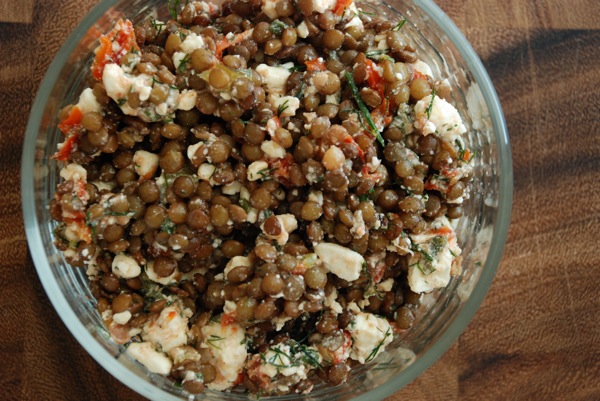 The best part of this dish is that it stays good for upto a week in the fridge. Make a big bowl of it in advance; a squeeze of lemon before serving makes the dish taste as good as new. I've never been so glad to pull lentils out of hibernation.
Mediterranean Lentil Salad
makes 8 portions

I had a jar of oven-roasted tomatoes that I'd made earlier in the summer, so that's what I used here. If you don't have any, raw cherry tomatoes will work great. I also roasted my own peppers for this recipe, the process for which is quite simple: char over a gas stove or under the broiler until skins have blistered all over, then transfer to a large bowl, cover with plastic wrap, and let steam for 10 minutes. Remove, peel skins, and peppers are ready to use. With all that said, jarred roasted peppers are absolutely fine in this recipe. You can find them at most supermarkets.

2 cups Puy (black) lentils – you want lentils that will keep their shape when cooked
1/2 cup oven-roasted cherry tomatoes or 2/3 cup halved raw cherry tomatoes
2 roasted bell peppers, chopped
1 cup crumbled feta cheese
1/2 cup chopped parsley
1/4 cup chopped dill
Juice and zest of 1 lemon
2-3 tablespoons olive oil, to taste
freshly ground black pepper to taste

Bring a large pot of salted water to a boil. Add lentils, and cook, covered, for about 20 minutes, or until cooked all the way through (test a few for doneness). Strain, rinse with cold water in the strainer to cool the lentils, and transfer them to a large bowl.

Add remaining ingredients to lentils. Toss to distribute. Let sit for 10 minutes to marry the flavors, then serve immediately or refrigerate and serve later. Lentils will keep about 1 week. If serving after a few days, revive with an extra squeeze of lemon and grate of the pepper mill.