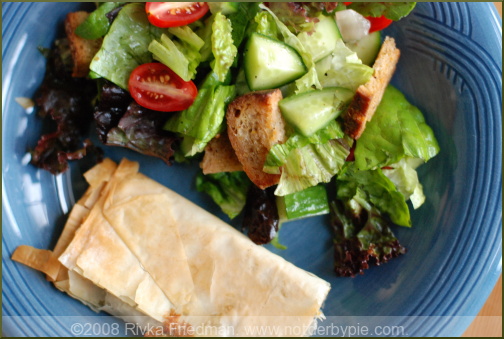 Now that it's summer, my counters are teeming with beautiful red tomatoes and my fridge is packed with brightly-colored produce of all sorts: radishes, favas, beets, strawberries, you name it. It's a welcome change from the endless supply of potatoes, yams, potatoes, and kale, oh, the kale. Thank goodness I've got some red back in my life!
Of course, with beets and radishes come a whole new type of greens — the kind attached to the stems of the beets and the radishes, of course. Both are too often overlooked — especially radish greens, for which I've never seen a recipe. Until now.
Here's the thing. Pesto? It doesn't just have to be basil in there. Stick in some cilantro and call it chimichurri or — better yet — send some radish greens under the knife and start to enjoy what too often ends up in the disposal (or, in my case, the compost bin. Yay!)
Radish greens are best used within a couple days of buying or picking them, so they're a bit more finicky than basil. But they're spicy and a little bitter like arugula, and quite flavorful. They're also almost always attached to the radishes you buy, so why not use them? I've blended them up with walnuts and pinenuts, and they pair beautifully with both. But I've got a lingering curiosity about how they'd play with pecans, so if you try it, lemme know.

Last time I made this, I stuffed it in phyllo dough for a variation on spanikopita. Radish leaves contain a fair amount of water, so I'd recommend putting the ground leaves into a fine mesh strainer to let some of the liquid drain out. After that's done, feel free to add any other things you'd like. I've added Parmesan before, which is quite nice, but since this last time I was going for a Greek theme, I opted with feta cheese and liked it even more. I also added a squeeze or two of lemon, which gives the pesto some tang and has the added benefit of delaying oxidation (when pesto hits the air and turns brownish).
As you can see from the pictures and the post title, we ate this streudel with Panzanella, or bread salad. I can't say I have a recipe; we really just used the vegetables from this week's trip to the farmers' market, and any vegetables will work. The key is to have some good, juicy, ripe tomatoes in there, whose juices will seep into the pieces of bread. Other than that, no rules — sky's the limit.
Radish-Beet Pesto Streudel

I know this recipe is really rough and that the measurements are as imprecise as can be — but this is one of those things that is ever so contingent upon your tastebuds. If you're nervous, start with 3/4 of the greens and 3/ 4 of the nuts, and after you've blended that quantity, start tasting and adjusting until you achieve your preferred balance of greens to nuts.

1 bunch (about 1 1/2 cups) radish leaves, rinsed and dried
1 bunch (about 3 1/2 cups) beet leaves, rinsed, dried, and ripped into large pieces
1 1/2 cups walnuts or pinenuts
salt and pepper
1 cup feta cheese, crumbled
juice of half a lemon, optional

Preheat oven to 350 degrees. Set phyllo dough out on the counter, in its box, until thawed, at least half an hour.

Chop greens in a food processor. Transfer to a fine mesh strainer set over a bowl, and either leave for an hour to let the liquids drain out, or (much more efficient) press on the greens to expel their liquid. Return to the food processor.

Add nuts and blend until the pesto is your preferred consistency (I like this radish-beet pesto quite smooth with only a few very small chunks, but others like it super chunky — up to you). Add cheese, and give the processor a couple quick pulses just until the cheese is incorporated. Taste and adjust for salt, and add pepper and lemon if desired.

Remove the plastic covering from the phyllo dough, unroll it, and cover it with a slightly damp towel; this will prevent the sheets from drying out and turning brittle.

On a rimmed baking sheet covered with a piece of parchment paper or tin foil, place one layer of phyllo dough and brush lightly with olive oil. Cover with a second sheet of phyllo dough. Repeat five times, until you have six layers of phyllo dough stacked on top of each other with a thin layer of olive oil in between (if you have five or seven layers, please don't sweat it).

With one of the long ends facing you, spread the pesto horizontally about a third of the way from the edge closest to you, leaving about 1 inch at either end. You'll be rolling the up the streudel along the long edge of the dough. Start rolling the filo away from you, making sure the pesto stays inside the dough as much as possible (if it leaks out a bit, no worries). Pause at the halfway point to tuck the edges into the roll (or be lazy like me and leave it open, though the pesto will seep out during baking). Brush the top with a little olive oil and bake at 350 for about 25 minutes, until the top is golden and whatever filling has seeped out is bubbling.

Panzanella Salad with Fava Beans

Ingredients

Several handfuls of fresh lettuce, whatever is on hand is fine
The best tomato (or cherry tomatoes, in my case, though large ones are preferable) you can get your hands on
2 mediterranean little cucumbers or 1 regular cucumber, chopped
1 lb. fava beans, shucked, blanched, and peeled **
2 slices or 1 big hunk of good, crusty bread that's a couple days old, cut or ripped into squares or small pieces
1/8 cup olive oil
1/8 cup red wine vinegar
salt
pepper

Mix vegetables, favas, and bread together in a medium salad bowl. In a separate smaller bowl or dressing container, mix oil, vinegar, and salt and pepper to taste. About ten minutes before serving, shake dressing well and drizzle over salad. Toss to combine, and allow to sit for a bit until the bread starts to soak up the dressing. Serve.

**To prepare favas, start by popping open the pods and picking out the beans. The beans are coated in a waxy outer layer that also needs to be removed; to do this, cook fava beans in medium saucepan of boiling salted water until just tender, about 1 1/2 minutes. Drain. Rinse under cold water; drain well. Peel fava beans and set aside. (Can be made 1 day ahead. Cover and refrigerate.)