Yes, I could write a book on sour cherries. Perhaps I will one day. I love them, I love them so much. When buying my 15th and 16th quarts of the season at the Foggy Bottom market last week, it dawned on me: Internet, sour cherries are my favorite fruit.
Back at the homestead, I searched the interwebs for other people's odes to sour cherries. Sadly, most people seem to enjoy them just fine, but no one has gone on the record as the crazy obsessive I seem to be. It's fine, though: if you're not in the sour cherry camp yet, I'd bet a Hamilton this focaccia has the power to convert.

My friend Jana introduced me to this recipe a couple years ago. Here's what's great about it: first, it's not too sweet. The sour cherries are allowed, for once, to be…sour. And there's plenty of salt on this focaccia. Sour cherries and salt don't meet often enough (and if you're looking for another way to use them in a savory dish, I'd highly recommend this one.) It's funny—and probably no accident—how much the cherries look like cherry tomatoes, nestled into the dough and sprinkled with fresh rosemary. The aesthetics play with your senses.  The rosemary definitely would be great on a traditional tomato focaccia, but it might surprise you how well it pairs with cherries.
Another thing sets this recipe apart. As much as I love sour cherry pie and crisp, the corn starch and the flour from the crust can make the cherries a bit sludgy. Here, each cherry has its own little bed of dough. No clumping, no sludge. Just perfectly plump, roasty cherries, waiting to burst when you bite into them. The focaccia itself also has this fantastic contrast thing going on: juicy, moist spots under the cherries, crisp outer edges and bottom. It's a perfect recipe, and now that sour cherries have hit the market, you shouldn't miss it.
For some of you, sour cherries still aren't out. Fret not: there's a recipe here for you, too. You see, thanks to my wonderful Michigander in-laws, I've got a never-ending supply of perfectly plump, wine-colored dried cherries. My mother-in-law reads my mind, replenishing them just as I run low. Back in May, before sour cherry season, Jana invited us to dinner. When she asked us to bring focaccia, I turned to that same recipe she'd given me — and then began to play.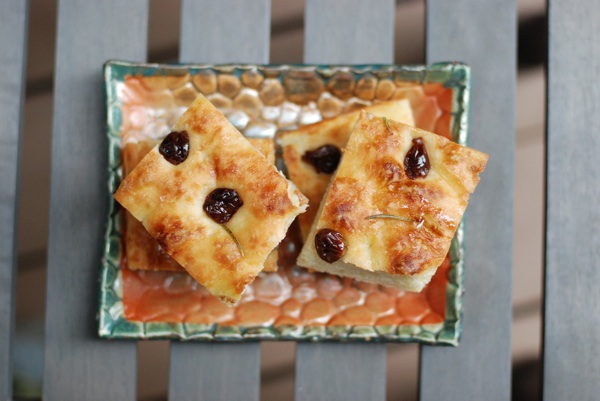 I was a bit wary of making Martha's dough recipe again, since it was so wet when I first made it and I wanted something slightly more manageable. So I turned instead to beloved Gourmet for my go-to focaccia recipe, which is easier make and easier to handle. The crust isn't as crackly-crisp as Martha's, but it's a fair amount less greasy. I preferred it overall; Jana prefers Martha's. I've provided the Gourmet one below, but if you'd like to try the original, you can find it here.
I knew I didn't want to lose that juicy-crunchy interplay that makes the original so fantastic, so I soaked the dried cherries to plump them up. Another thing that makes the original recipe unforgettable? Instead of flaky salt, it gets topped with sanding sugar. I did the same, but I made sure not to skimp on the salt in the bread itself – makes for a nice contrast.
The result was definitely more muted than the original, but lovely in its own rite. Those plumped up cherries got richer and more concentrated in the oven, and the rosemary still got nice and crisp. All told, it's a bread I'd happily make again, even now that sour cherries are back in season.
Cherry and Rosemary Focaccia
Adapted from Gourmet and Martha Stewart

1 2/3 cups lukewarm water
1 (1/4-ounce) package active dry yeast
5 cups unbleached all-purpose flour plus additional for kneading
1/4 cup plus 3 tablespoons extra-virgin olive oil, divided
1 tablespoon coarse sea salt
12 ounces fresh sour (tart) cherries (or drained thawed frozen), pitted (2 cups); OR 10 oz. dried cherries (see instructions below)
2 tablespoons coarse sanding sugar
2 tablespoons fresh rosemary

Combine water and yeast in a large bowl or the bowl of a stand mixer for 5 minutes, until creamy. Add flour, 1/4 cup of the olive oil, and the sea salt to the bowl, and mix with paddle attachment or a wooden spoon until a dough forms. At this point, either switch to the dough hook and mix at high speed, or turn out onto the counter and knead by hand, until dough is soft, smooth, and still sticky. This will take 3-4 minutes with a dough hook, but when I've done it by hand, it's taken more like 6-8 minutes. If kneading by hand, you'll need to sprinkle flour on the workspace and probably add as you go. Only add as much flour as you absolutely need to knead the dough; you don't want dry focaccia.

At this stage, if you've been using the dough hook, turn the dough onto a floured workbench and knead in 1-2 tablespoons more flour. Knead for 1 more minute. Then lightly oil a large bowl, transfer dough to bowl, and let rise, covered with plastic wrap, at warm room temperature, until dough has doubled, 1 to 1 1/2 hours.

Generously oil a large (13″x17″) rimmed baking sheet (or, if you don't want to worry at all about dough sticking, lightly oil a silpat-lined sheet. Less oil, less sticking. Your choice.) Turn dough onto baking sheet, and use your fingertips to spread dough to fill the sheet. You may need to take a break halfway through to let dough relax; you'll find it spreads more easily after a 5-minute rest. Once dough fills nearly the whole baking sheet, let dough rise, covered completely with a couple kitchen towels, until doubled in bulk, about 1 hour.

At this point, if using dried cherries, reconstitute them in 1 cup of boiling water for about 30 minutes. They will soften and plump up. Drain after 30 minutes, and set aside.

Preheat oven to 425°F.

Drizzle dough with remaining 3 tablespooons olive oil. Scatter cherries overtop, and sprinkle with sugar and rosemary.

Bake in the middle of the oven for 25-30 minutes, until golden and cherries are bubbling. Immediately slide focaccia from baking sheet onto a cooling rack. Cool slightly; serve warm or at room temperature.